A Series of Spooky Events
With Halloween right around the corner, seasonal festivities are underway. Rider High School has several "spooky" events that will be hosted by numerous student organizations.
Murder Mystery returns for the second year
Last year, Nerd Club hosted its first Murder Mystery party in which participants worked together to figure out who was the murderer of the hypothetical plot. This year, the mystery returns, and the event is Hollywood Movie Murder-themed. 
"We're bringing it [Murder Mystery] back because people loved it last year, and we think that we can make it even better this year," said sponsor Bryce Henderson.
Murder Mystery will be on Oct. 30 from 3:15-5 p.m. in the student center. Admission is free for nerd club members and $5 for anyone else that would like to join in on the fun.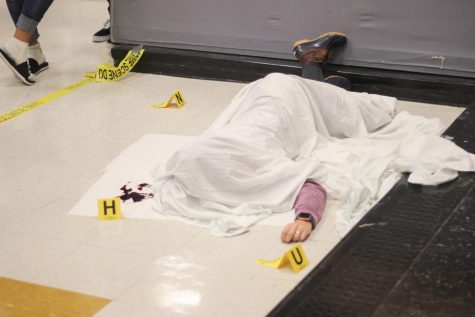 Theatre starts trunk-or-treat event
The Theatre department is hosting a "Trunk-or-Treat" event on Halloween night. Like the "Trick-or-Treat so Kids can Eat" events of years' past, entry is in the form of canned goods.
"We're going with the theme of Hansel and Gretel," said Spencer Simons, Rider Theatre member. "You get to interact with the witch, Hansel and Gretel, and candy monsters."
Simons said that the event is for people of all ages; there will be wristbands that indicate the level of fear participants are willing to experience during their time in the haunted house. The haunted house will be at the workplace of one of the department member's mom's, 4200 Call Field Rd.
Choir to have fall concert 
On Mon., Oct. 26 at Lamar Baptist Church (1100 Harrison St.)  at 7 p.m., Rider Choir will have a concert featuring seasonal music, including a soft and slow Hebrew piece and a fast Halloween song with text from "MacBeth." Everyone is encouraged to attend and entry is free.
There are also several Halloween events taking place around Wichita Falls and in the surrounding areas during October.
41st annual Chamber of Horrors
Who: The Boys & Girls Club Alumni Association
What: Hosting Chamber of Horrors
When: Fri., Oct. 25 and Sat., Oct. 26 from 7:30-10:30 p.m.
Where: Boys & Girls Club of Wichita Falls Basement, 1318 6th St.
How: $5 admission for kids 12 and under and $10 for those 13 and older
Insane Acres by Wicked Andy's Productions
Who: Wicked Andy's Productions
What: Hosting "Insane Acres"
When: All Fri. and Sat. nights in Oct. from 8 p.m.-12 a.m.
Where: 587 Coastal St., Charlie, TX (off of FM 810)
How: $15 per person admission includes a ticket, a hamburger and a drink
Backdoor Theatre's production of Frankenstein
Who: Backdoor Theatre
What: Producing the play, Frankenstein
When: 7:30 p.m. Oct. 24-26
Where: 501 Indiana Ave.
How: Admission price ranges from $12-$21 dollars depending on age and military status. Student discount is available with a school ID.