Defying the Odds
Amberly Schell qualifies as UIL choir chair for the third year in a row.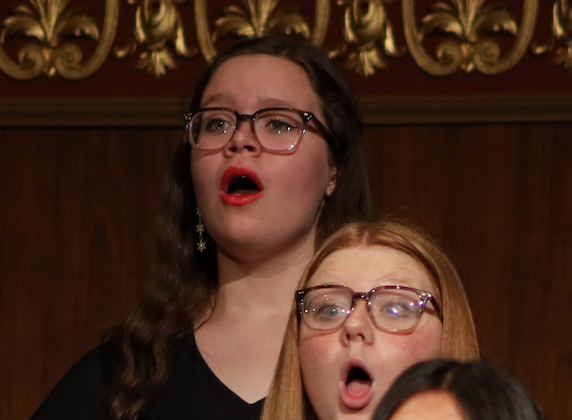 Passion is important in competition, whether it's a football player determined to go professional or an actor wanting to be the lead on Broadway.
Or whether it's a local senior becoming an all-state choir chair for the third year in a row, like Amberly Schell. The senior has developed a love and passion for choir throughout her time at Rider. 
Schell has continued to defy the odds with her all-state accomplishments. She has gone from impressing her directors by becoming first chair her sophomore year to now earning second chair as a senior. 
"Honestly, I just really love choir. All-state is just a great experience to get to sing with other really great musicians," Schell said.
Schell has gained confidence throughout the years. She went from a freshman just trying to compete to now becoming an officer. 
"I've grown a lot musically," Schell said. " I've been trying my best to help others in the process too because it's nice to have other people make it from your school like we did this year."
Four singers advanced to the recent area meet in Odessa with sophomore Allie Calvert earning honorable mention all-state. 
Schell's goal this year was to make mixed choir since she did not like the music the treble choir would be singing. Earning second chair was an added bonus and surprise after making third chair her junior year.
" I'm just shocked over that. I was so just so grateful that I got one of the first chairs because I wanted to experience something with the whole choir and that's just awesome to me," Schell said.
Schell will be performing with the mixed choir at the Texas Music Educators Association convention from Feb. 8-11 in San Antonio. 
Though a skilled musician, Schell is faced with struggles. It is anxiety-inducing going into a room and singing for judges you have not met nor can see.
"It always makes me mess up, so that was the hardest part for me. It's hard to prepare for, because there's a lot that goes into it," Schell said. "Like knowing you're going to be judged makes you more anxious than knowing someone you practiced in front of when there's not as much pressure."
Luckily for Schell, her brain is mathematical and rhythm comes easily to her. This enables her to be able to "hear the music" she is looking at.
"The easiest part of the process for me is probably sight reading, which is difficult for other people. Another one of my strengths is being able to read the music and get it down pretty fast," Schell said. 
Throughout her UIL choir career, Schell has grown tremendously, according to director Melanie Coons.
"She's done it enough that she probably needs less help from us at this point," Coons said. "She knows the process and she can do it independently."
Leave a Comment