iPhone 6 = Awesome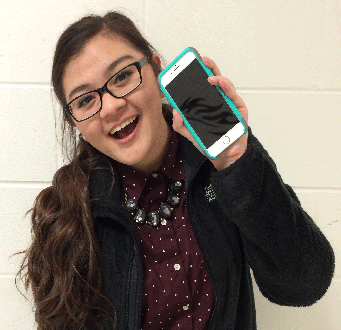 Sorry, there are no polls available at the moment.
Finally.
I'd basically been waiting for this phone for practically two years.
To finally be rid of the haunting past that was my phone was glorious..
Granted I was supposed to wait in a freakishly long line, and maybe fill out the paperwork to get the new phone six to eight weeks later instead of when I was already conveniently there (which was most definitely NOT the goal).
I did not do any of those ridiculous things because I got one the day they came out.
When the iPhone 6 was first in the works there was rumor of a better camera. Now using the phone and its camera, I saw major improvements as opposed to the last iPhone. It has many new features such as slow motion video, time-lapse video and cool filters (because Instagram's weren't good enough, of course). The camera is probably the best feature of the new iPhone.
Another great improvement is the iPhone itself. Apple reinvented the iPhone to have a larger screen while still having a thin profile. Those who complain it is too large haven't used the new feature that allows you to reach apps better while keeping your hands at a . The reachability feature allows you to lightly double tap the button and the apps move down so you can actually reach the top apps. From those who have small, stubby fingers, we thank you Apple!
Apple has certainly outdone themselves this time as the iPhone 6 exceeds all of my expectations. The only thing better than the iPhone 6 right now is the iPhone 6 plus, but that's a whole other subject.