Upperclassmen enjoy off campus privileges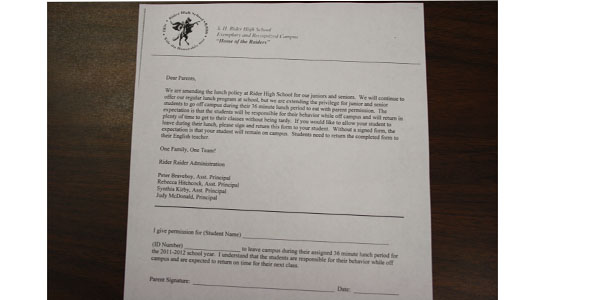 A change in the school lunch period has been implemented.
Now replacing the 45 minute lunches last year are shorter, 36 minute lunches. The two shorter lunches are a result of not meeting the state's requirements for the hours that the school is required to be in session.
The school also opened the option of off campus lunch for juniors and seniors as long as they have their parents permission. The students' parents had to sign a permission slip which holds the student accountable for all his or her actions off campus.
When it came to deciding how to schedule the school hours, the administrators made sure they had the required amount of time to be spent in classes.
"We added one minute to the first three classes," assistant principal Peter Braveboy said.
Fourth through seven periods were lengthened by three minutes. The minutes that were added to each of the classes came from the 45 minute lunch.
"What was left [minutes] went to lunch," Braveboy said.
As a result of the shorter lunch, there were some problems. Second lunch was overcrowded with students, so the administrators worked with the counselors to rearrange schedules and moved people around. These students were moved to first lunch.
Some students suggested making a third lunch, but Braveboy doesn't find three lunches necessary.
"If they move quickly, they will have plenty of time to eat," Braveboy said. "People like to play around, and that slows the process down."
Braveboy suggests that students take 15 minutes to go through the line. Once the students have their food, they have a remaining 21 minutes to eat, which is more than enough time.