Q/A with Rider Principal Dr. Cody Blair
Dr. Cody Blair is beginning his second year as Rider High School's principal. With many changes underway, The Rider Chronicle sat down with Dr. Blair to address his plans and goals for the school year.
Q: What do you think has made this school successful so far? 
A: The key to all of our success is our staff and our students. We've got just such a great staff who works really hard together (to) focus on learning, cares about kids and really does this job the right way. They have a ton of expertise knowledge. They all worked here, so many of them for a long time, so there's a lot of continuity, so that's a good thing. And then our students are tremendous, too. We have great kids who work really hard who kind of meet the expectations we set for them.
Q: What are your expectations for this school year?
A: My expectations are always kind of just to go forward. One, we should always want to get better. We've got to acknowledge and recognize, like you said in the first question, all of the success that we've had, which is great, but then not become comfortable with that, and we just want to keep sustaining that and continuing to improve. I just want to see us getting better this year, and I'm excited to do that with our new students and our staff team that we have this year. It's going to be a good year.
Q: What is something new or something that you want to do different this year?
A: There's one new thing in regards to student safety… and that is entry and re-entry points for the campus. This is a building that was built more than 50 years ago, so it wasn't built up to 2019 standard codes of safety as far as the number of exterior doors and access and all those kind of things, so this year we're going to move to some more control access of how students enter and re-enter the building throughout the day.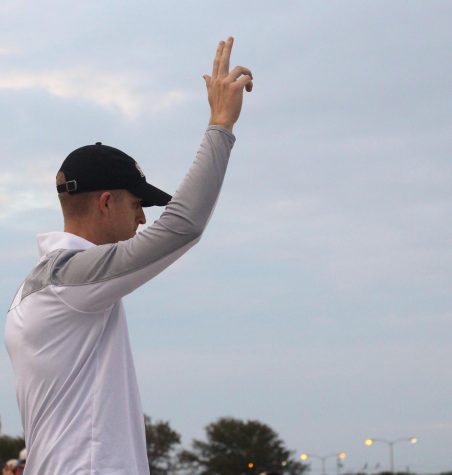 Q: What types of feedback do you normally get when people visit Rider?
A: We get a lot of positive feedback as far as how our students behave and respond and perform so lots of positive feedback that way. We get a lot of positive feedback (on) our staff just being welcoming. Kind of a family feel here, a real team environment. We definitely get feedback on the facilities we have, and we all know that they're not up to par, so we definitely get that feedback too.
Q: What are your fingerprints or the impact you have left on Rider so far?
A: I'm striving to leave an impact, but my impact probably is just measured in difficult days. I think the way I'm trying to leave my fingerprints here is just to do everything I can to show kids and students that we care about them and that the staff here cares for them and really also leaving the impact that communicating to our staff that we support them. They feel supported and able to do their job.