Home for the holidays
5 places to visit during Christmas break
With cold weather finally settling in and the Thanksgiving holiday having passed, there is an unmistakable anticipation in the air. As Christmas break approaches, the COVID-19 restrictions will be making this holiday season one filled with challenges.
But fear not, gingerbread house-making, Christmas tree-decorating  enthusiasts. We've made a list of five fun activities to occupy your holiday season, most of which you don't even have to leave town for.
ElectriCritters

   The Riverbend Nature Center is hosting their annual light show tour, "ElectriCritters." The walkthrough will consist of over 195 displays, all of which will be collectively lighted by more than 60,000 light bulbs. To abide by the COVID-19 precautions, Riverbend decided to have all of the displays set up outside. In addition to this, there will be free admission for the public, thanks to the Nature Center's generous donors. All showings will be from 6:30-8:30 p.m. until Dec. 19.
Country Club light looking

   Who doesn't like looking at some of the best Christmas lights the area has to offer? PTL Carriages offers the choice of riding in "The Big Red Sleigh," the "Vis-a-vis Limo Carriage," or the "Vis-a-vis Carriage." Another choice is "The Group Wagon," with room for up to 20 passengers. The tours begin at 5:30 p.m. and are scheduled hourly after this time. This opportunity will be available up until Christmas. Another less pricey option would be the Country Club's Polar Express excursions. This opportunity ends on Dec. 25. Both of these rides traverse the Country Club's neighborhoods on routes that feature stunningly decorated houses decked out in holiday lighting.
Santa's North Pole Adventure

   The Wichita Theatre is hosting its own event for the holiday season titled "Santa's North Pole Adventure." This experience will feature several vendors, "Story Time," games, the North Pole, Santa's Village, Santa's House, Santa's Gift Shop, actors in costume and visits with Santa and Mrs. Claus. To follow COVID-19 precautions for an indoor event, all visitors will abide by social distancing rules and wear their masks at all times. For $10, visitors will have access to the entire experience, a choice of hot chocolate or cider and a special Christmas cookie. Show times will vary throughout the afternoon, ending on Dec. 19.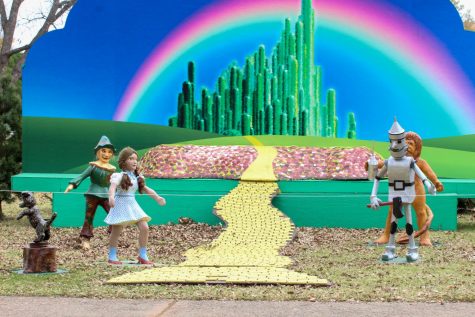 Fantasy of Lights

   MSU-Burns' annual "Fantasy of Lights" display is a staple for most Wichitan's Christmas traditions. This experience is a must-see during the holiday season. Each scene is lighted and animated, featuring characters from several children's stories, holiday themes and fairy tales. All together, there are 45 of these larger-than-life decorations with a Frozen display having recently been added. There are designated walking paths and signs to help you navigate this experience, all the while keeping you safe and following CDC and  COVID guidelines. Admission is free, with showings lasting from dusk until 10 p.m. This experience will be open until Dec. 26.
Chickasha Festival
   Already visited all of these festivities? Then here's an option that's less than two hours away. The Chickasha Festival of Lights is a 100-mile drive north of the Red River and offers 43 acres of lighted Christmas displays. This tradition, almost 30 years in the making, is made possible by non-profit organizations and their volunteers. The walk or drive-through experience also accommodates many other activities, including an ice rink, a ferris wheel and carousel, a food truck park and daily carriage rides. If you wish to learn more, visit the website: https://chickashafestivaloflight.org.
   And if you've already been, a new addition to Chickasha's fame might be worth going again. Making national headlines, Chickasha just brought in a 40-foot inflatable leg lamp inspired by the lamp in the classic holiday film "A Christmas Story."