Rider Alum Shares Her Story
Nina Chapman didn't always plan to be an author. 
The native Wichitan who graduated from Rider in 1999 loved writing and telling stories, but admits she wasn't the scholarly type and didn't enjoy reading. 
"I was just too squirrely. I think I have ADD I swear, but I love a good book now," Chapman said. "This is why I'm a teacher because I love a good student and I know the struggles and I know how to help them." 
Chapman, whose maiden name was Gwyn, teaches middle schoolers in Denver now, but she also recently became an author when she published Micah McKinney and the Boys of Summer. It's a coming-of-age story about a girl named Micah moving toward a new neighborhood right before the start of seventh grade at McNiel Middle School. 
The book tells us about her journey that summer tackling, puberty, middle school crushes, friendships, deep family problems and relationships. It revolves around Micah and the neighborhood kids enjoying their summer at the neighborhood pool Seablue and Rider's soccer fields. 
"It started off as a personal narrative because I'm a teacher here in Colorado and I wrote a sample personal narrative," Chapman said. "I read it to my students. They were like, 'Oh my gosh what happens next,' and so they told me I needed to make it into a book so I kind of toyed with it. 
"In the summer, I had major knee surgery to deal with the same injury that ended my soccer career in high school actually, and I had to miss like six weeks of school. My kids were like, 'When you're gone, you have to write the book' and I was like OK."  
Chapman didn't finish it while recovering from surgery, opting to watch HGTV on her couch instead. But then finished by writing in the afternoons during the summer of 2017 and then began the process of getting it published. 
Her goal of becoming an author came true on April 1, 2020 when Capstone Editions published it. 
"I always told (my kids) they can do whatever they set their minds to, and I put my money where my mouth was," she said. "The next summer I found my agent… and then the next summer/fall it got sold." 
While the book is filled with parts that make you roll over in laughter, the book covers deep topics also, like suicide.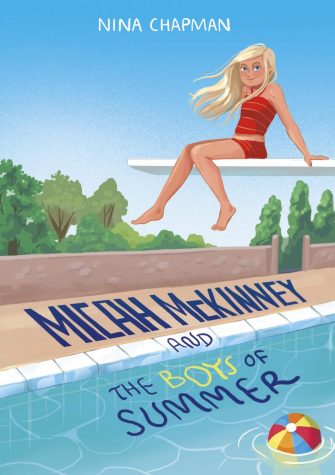 "The death scene is my mom's death scene. I wasn't initially going to write about it because I wanted my book to be fun, kinda like Sandlot-ish, just a fun summer read," Chapman said. "But as I was trying to give her insecurities, I was thinking, 'Why is she insecure?'
"My own childhood trauma kind of came into it, so my agent really pushed it and the editor for the book really pushed me to include the sad parts. There's just so much shame that comes with suicide, and I didn't want to talk to people about what my mom did because I was embarrassed." 
Chapman said writing this book helped with the grieving process. She also based the main character after herself. 
Chapman was born in Fort Collins, but her mother was a traveling musician so she grew up in Wichita Falls and graduated two decades ago.When she was 8 years old, she moved to  Sierra Madre across from Rider. 
Chapman played soccer for Rider until her junior year when she suffered a knee injury. By chance, she found herself playing a key role in theater. 
 "I was in theater arts class and they were doing auditions," she said. "I just thought we were reading in class, and I got one of the main leads so then I did theater."  
Chapman may not have initially planned on being an author, but now she doesn't plan on stopping. She already has the plot line for the sequel, which will have more appeal to the young adult audience. 
"I'm trying to write more for young adult right now because that way I don't have to hold back this time," Chapman said. "I'm more of a blunt person. I want to reach more like in the 13-18 age range."
When asked about what advice she would give to young writers, Chapman didn't hold back with her response. 
"Embrace it. Embrace the suck. The first time you write anything you can't expect it to be perfect," she said. "You have to build up your writing skills to match your taste. It's a muscle you have to work on it, you've just got to do it,  and it really is a matter of consistency."