Crowe: Reflecting on time as Raider yearbook editor-in-chief
For those who don't know me, my name is Carsen Crowe. I'm a graduating senior, and I have had the honor to be the editor in chief of the yearbook staff for the past two years. 
This program has brought me so many amazing friends and incredible opportunities, and it has played a huge role in paving the path for my plans after high school.
My freshman year, I needed an elective and I knew I liked writing, so I decided to take the Journalism 1 class. I remember it was a little slow getting going, but as we experienced each aspect of the media program, I discovered that my niche was more in design than in writing. 
Our first assignment in InDesign was to design a spread about ourselves. As I was designing it, I remember thinking, 'I could probably stop here and still pass,' but I loved it so much that I just kept going with it. From that point on, I couldn't wait to contribute as a member of the yearbook staff. 
Fast forward to my sophomore year. As I was in the middle of designing my first spread for The Raider, I was asked to step up to a section editor position. Being new, it was a challenge to juggle everything, but I loved it. 
For me, the challenge that yearbook brings is what makes it fun. So last year, when the opportunity came to become co-editor-in-chief, and this year, editor-in-chief, I welcomed the challenges with open arms. 
While this has been a challenging four years for me, I wouldn't trade them for anything. This program has allowed me to experience leadership, creativity and teamwork in such a unique and unforgettable way. 
It has made me realize that I have a passion for these experiences. It has also made me realize that I want to go into marketing in college and enter a career that I'm equally as passionate about.
Looking back on the year, you can either focus on what you wish could have been different, or you can be thankful for what you have now.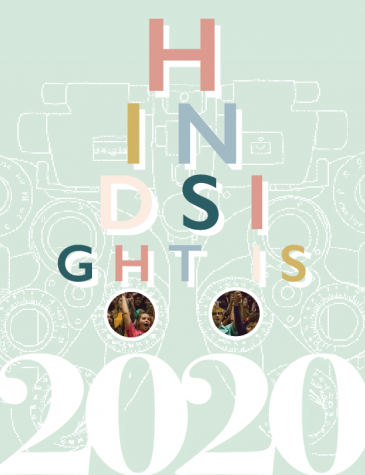 I know that for me, I'm so very thankful for this book and for this program. I think the book that our staff has produced this year is the most unique and the most exceptional. 
While I had the privilege of being this year's editor, I can't even begin to take credit for it. This book would not be the masterpiece that it is without the tireless efforts of the entire staff. 
To the photographers, the designers, the section editors and both of our advisers, Coach Duncan and Mr. Byas: Thank you for pouring your heart and soul into this book. And the student body: This book is starring YOU! 
Don't miss out on the chance to take home a book full of memories from a particularly memorable year! As members of the ROHO family, we know better than anyone that hindsight is 20/20 (if you don't get my reference, don't worry, you will soon!).