Varsity Girls Basketball Ranked 10th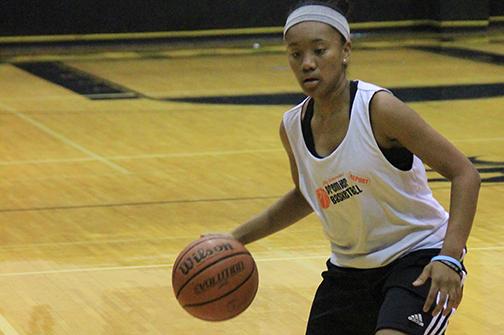 Mercedes Brooks would rather be ranked higher. She thinks that everyone on the Lady Raiders basketball team is motivated also. They just won't settle for 10th in Texas.
For Mercedes this comes with mastering skills like going-left.
"Dribbling with my left hand is my weakness in basketball," Mercedes said. "The other teams watch film on us. They know I always go right handed so they usually play my right hand so I can't go right handed. Almost every district game I have to go left so that's what I'm working on."
For Ashley Reid improving rank means finishing-at-the-rim, or making a shot even when there is contact. She practices the skill with her dad who will try to hold her hand or push her with a small foam bumper like a coach at football practice.
"We really want to win state, but this [the ranking] is a major mark. It means a lot because a lot of our girls are young," Ashley said. "To be ranked 10th is a really good for us."
Practice goes beyond the mandatory eight-period and after school for both players and parents like Mercedes' mom who has become like a "second coach" and helps the team with handling and shooting in her spare time. Or Ashley's dad who helps her practice and prepare mentally for games.
"He talks to me about getting to know the court and stuff and knowing where everyone is,"Ashley said. "Basketball is like his specialty. He sends videos out to colleges for me, and he helps me with everything."
Ashley said basketball has been the sport they have shared since she lived in Austin in second grade when she could dribble a miniature basketball.
"I've played basketball ever since I was a little girl, but mostly I play basketball for my dad," Ashley said.
Her teammate Nicole Linn said that to grow the team must work together and have the same goals while on the court.
"We can't all just go out there and think that we doing this for us," Nicole said. "We have to do it for the whole team as a unit."
This improvement will be tested quickly since the Lady Raiders have been pitted against other ranked teams early in their schedule. Still with a record of 8-2 and holding at 10th they are ready for the competition.
"I think it's pretty cool," Nicole said. "I think it intimidates other people so they are kind of scared of us. It's just fun getting to play against teams because them being intimidated just gives us a lot of confidence."