Rider Custodians, Cafeteria Workers face COVID-related changes
Custodians and cafeteria workers on campus face altered sanitation protocols and safety procedures to prevent the spread of COVID-19.
Clementina Porras has been sweeping the same hallways at Rider High School for the past 20-plus years. 
This year, due to the pandemic, Porras's routine is more strict as she's responsible for deep-cleaning areas when needed.
"When they call me, I have to go clean and disinfect in a classroom," Porras said. "It is a whole lot different because I have to use special chemicals on it. I have to disinfect kids' desks, seats and everything."
No matter the difficulties she faces, Porras's love for Rider High School is unwavering. She is always the first person at school making sure everything is ready for the students' arrival. 
"I like to be here," Porras said. "I like being around the kids. I love you guys. Whatever I do, I have to do, I do it. I am happy to do whatever is needed of me." 
Porras worries for the safety of everyone in the school and fears they may become infected if she does something wrong.
"I just stay focused on the students, staff and myself," Porras said.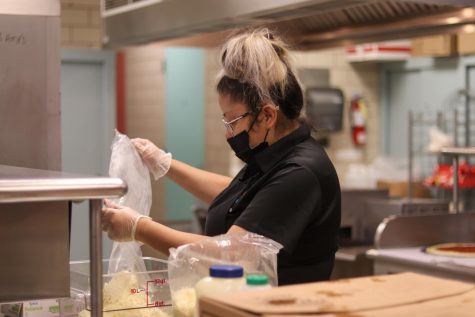 Also Cafeteria Supervisor, Velinda Ayala faces some new challenges this school year. 
"Now with COVID-19, we just emphasize more," Ayala said.
In addition to her staff having sanitizers at their stations, other changes in the cafeteria include new ways of making food and having an abundance of food. 
"When they came through the line they used to put their keypad (code) in, we did stop that so it is touchless," Ayala said. "Now we do it ourselves.
One of the biggest differences Ayala has to adapt to is the low number of students going through the line for food.
"We do have enough food to feed everyone at this school," Ayala said. "But it is hard when there are only 200 students coming through."
Even with these difficulties, Ayala has hope. The Wichita Falls Independent School District (WFISD) announced last week that starting Sept. 21, all lunches are free to everyone 18 and under. 
"It is getting better, we are so excited," Ayala said. "More kids are coming through the line. We do try to work at a fast paste, so we can get them in and out and not stand with each other for a long period of time."