Students Can Save Lives Tomorrow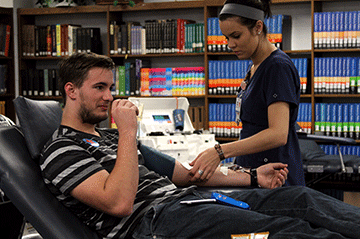 By giving blood tomorrow Rider High School students have the opportunity to save lives.
"When I was a sophomore I was in the hospital and I lost so much blood that I went into a shock so I would have died if they didn't have blood on hand," senior Sara Sorge said.
Only a blood transfusion could save her life. And that is the reason blood drives are so important to Sara.
"It could happen to anyone," Sara said, "I have never thought about it before. It was just a random thing."
She hosts the blood drives which is her way of giving back.
"Donating blood saves lives and it is a way for students to give back to the community," says Mrs. Mroczkowski, who supports the campaign as the head of student council.
About 85 Rider High School students give blood each year which goes through the Texas Blood Institute.
"If there is a blood shortage and somebody needs a surgery, sometimes they can't do the surgery because they don't have enough blood," Mrs. Mroczkowski said. "The students have to make sure they eat a healthy, big breakfast before donating blood. The process itself is completely safe."
Sara describes the process as follows: "You answer a survey because they have to know if you have had a transfusion the past years. If you went overseas you can't donate. But they have to ask you all of those questions to make sure your blood is safe and then they screen you and test your iron levels because if your iron is too low you can't donate and they make sure you're not sick or taking antibiotics. After they do the whole screening process they give you a drink to get your blood sugar up and they have you sit down and you squeeze a little ball in your hand. It takes like twenty minutes, and it saves people's lives. "
Sara says a reason students don't give blood is fear. Mrs. Mroczkowski agrees. She says the fear of needles might prevent some students from donating blood.
"Students have to have a certain weight at a certain age or it to be safe to take blood from them," Sara said. "They haven't let me donate because of my past history of bleeding. My dad, my cousin, and my uncle basically most of my family donates blood."