Some people go home to the usual pets like cats and dogs, but there's a few students who go home to unique animals. 
D'Shydric Davis has a boa constrictor snake named Nylah that is eight years old. His step-dad found it and brought it home because they used to live out in the country. 
David said it's very hard and expensive to take care of it. He loves everything about the snake, but his favorite part is her skin. 
"The pattern after she sheds it is like a rainbow, it reflects," Davis said.
Marley Aguon has three dogs – two American Bullies named Mochi and Lgnd plus one French bulldog named Vienna. 
But Aguon also has two different types of reptiles. She has two snakes named Pickle and Priscilla and one tortoise named Jeffery. Aguon's snakes are both ball pythons. 
Having a lot of pets can be hard for most people in the world, but Aguon loves it.  She has always been into reptiles because she grew up in Guam, an island in the Pacific Ocean. 
However, she's allergic to cats and that's why she has a lot of dogs. But the tortoise was just a birthday gift for her sister. 
"I think it keeps me occupied like if I'm bored I can just play with them," Aguon said. "I wouldn't say (it's more expensive), it's sort of the same as feeding a dog, but they don't eat as often as most pets do." 
Lauren Gunn has more animals than most students at Rider. She has three parakeets, four cats and two dogs.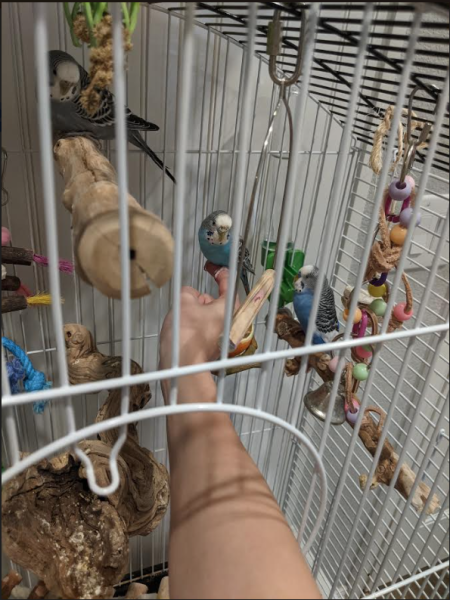 The parakeets are all different colors like blue, purple and gray. The two dogs are poodles with other mixes, the four cats are different colors, but there is one cat that is the sweetest named John John. 
Gunn assumes John John is the most expensive because he is so sweet. However, having many pets can be hard to maintain. 
"It's a bit much. I take care of most of the stuff, but to be honest they just do their own things," Gunn said. "The opportunity to go outside with my dogs is nice."  
Whether you own only one dog or several different types of pets, most Rider students enjoy having pets around.