Marching around the city
Rider seniors participate in the Macy's Thanksgiving Parade.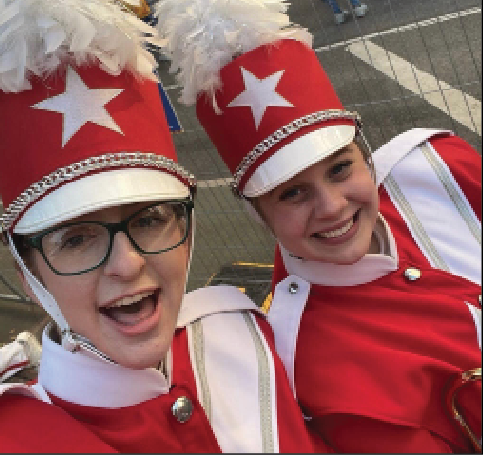 Every year balloons can be seen in the sky during the Macy's Thanksgiving Day Parade. As participants march all two-and-a-half miles, music can be heard. This year, seniors Sarah Beth Johnson and Jordan Tolleson were among the group of high school students around the U.S. experiencing a whole new view of the parade. 
Tolleson and Jordan were invited to join the high school band in the Macy's parade. During their time there, the two seniors embarked on an adventure- starting with the audition process.
"In January, we got a forwarded email from our director (Loy Studer) saying to have students try out for this. I looked at the website and thought this was interesting," Johnson said. "We both submitted a video audition and found out pretty soon that we were accepted." 
After informing their parents that they were going to be in the parade, the two started to prepare for their upcoming New York experience.
"Once we started getting things together to go, we both set up a GoFundMe,"  Tolleson said. "I had an interview at the news station, and got some donations together. Other than that, we didn't really start preparing until October when we got our music and started packing."
Johnson had not marched for three years, since becoming drum major of the Rider band. Her preparations started a little earlier than Tolleson's because she had to go back to the fundamentals. Other than her trip back to the basics, she prepared the same way as Tolleson.
Johnson and Tolleson had a very early flight the Saturday before the parade. Upon their arrival, the two got to the hotel hours before check-in.
"We just sat in the hotel lobby for six hours," Johnson said. "We DoorDash-ed mac and cheese and watched some movies." 
After finally getting into the hotel, the two prepared for a day full of rehearsals.
"We had an eight-hour and four-hour rehearsal with the entire band," Johnson said. "It was a really fast turnaround. Our first day we learned the entire Harold Square performance. From that, we had lots of musical practice."
Luckily for Johnson and Tolleson, the rehearsal space was, as Tolleson described, "beautiful."
"It was an indoor soccer place, a lot of the bands in the parade rehearsed there because it's in New Jersey, about an hour away from the city," Johnson said.
Finally it was parade day. Tolleson and Johnson had to be parade ready and in the lobby by 3 a.m.
"We're just musicians so all we had to do was put our hair in a bun. The dancers were not so lucky," Tolleson said. "We had to be ready and on the bus for an early morning run through on Harold Square, which was super cool."
Finally, the city awakened, and noise filled the area. The parade began.
"I wasn't prepared for how loud it was going to be. Because of the buildings, everything was echoed. Everything was super cool, and so much was going on. It was so exciting," Tolleson said.
The two were elevated by the high of performing in front of three million people. Even though they were running off four hours of sleep, Johnson and Tolleson attended a band dance, after Tolleson lost to Jimmy Fallon in Rock Paper Scissors.
According to Tolleson and Johnson, it was incredible how many people were surprised they were from Texas. After constantly repeating "yall," and confusing others with the use of "having a conniption," they decided to show a little country flair.
"We got to teach people how to two-step and line dance, it was so much fun," Johnson said.
Both Johnson and Tolleson experienced a few hours of fame during their New York trip. The pair made memories they will never forget over their time in New York.
View Comments(1)