Lip sync without the lips
Rider Theatre readies for beloved tradition
Lip sync is a well-known and beloved tradition at Rider High School. 
Despite challenges faced due to COVID-19, the show must go on! With the mask mandate, actors have to rely on their body language and chemistry even more than ever.
Performances will take place this Thursday at 7 p.m., Saturday at 2 and 7 p.m., the following Thursday at 7 p.m. and Saturday at 2 p.m. Presale has already ended, but tickets will be sold at the door, $10 for adults and $5 for students, by either cash or a check.
"Lip Sync: United Together" is composed of two six-song acts, including classics like The Beatles' "Being For The Benefit Of Mr. Kite," Coldplay's "Viva La Vida," and Blondies' "One Way or Another." 
Starring in four songs and directing one, senior Robert Holloway is definitely an actor to keep an eye on. While Holloway has been acting for many years, this is his first time directing.
"The first rehearsal I was a nervous wreck," he said. "But then the next rehearsal I came back like a new person." 
His number "Neutron Dance" by The Pointer Sisters will definitely be a crowd pleaser with an upbeat sound as well as lively choreography. 
Besides the addition of masks, another major change was the decrease from a cast of about 15 to about seven.
"There were just so many weeks where we wouldn't have all of our cast." Theatre President and director Macy Davis said. "People would get quarantined and we'd have like five people to work with for the entire song. Lowering cast numbers, while it was the right choice for everyone's safety, made it really difficult."
Junior Logan Potter has a lot of responsibilities as stage manager, overseeing day-to-day duties for the company. From formatting a script to making Google Forms, the stage manager has to be ready for any unforeseen challenges. 
But Potter admits his top priority is "sanitizer, sanitizer sanitizer, cover your nose, and more sanitizing" for health purposes. 
"Our main goal is efficiency," Potter said. "If there's a better way to do something, why not do it that way?"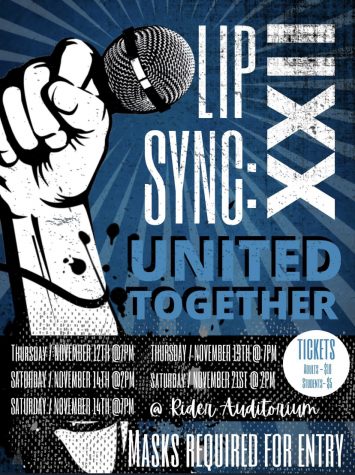 Every new year brings new castmates like junior Laura Christoff, who admitted to being nervous at first because of a new environment. 
"But everyone's really supportive and helpful and just makes the experience great," she said. "It's OK to step out of your comfort zone and do something different." 
Christoff is a part of three different songs, her favorite being Florence and the Machine's "Kiss with a Fist" directed by Josh Hawkins. "The song is really good and Josh did such a good job planning it out and the whole idea is just fantastic," she said. 
Just as years prior, Lip Sync has an overall show theme. But this year's concept, "Lip Sync United Together", feels a little more personal. 
"Everyone faced quarantine," Davis said. "There was not a single person who just didn't have to deal with it." 
Adding to this, Holloway brought up that we need to be "unified and together" not only with COVID-19, but also through "riots, protests and politics" in a hope that theatre in music could bring our "divided country" together, even a little bit.
While lip sync is the beginning of Rider Theatre this year, it is also the start of an end for many seniors. When Holloway was asked if he had any final message to his cast, he gave motivational advice: 
"I don't care if you have 10 soliloquies, and five monologues and 10 dance sequences or if you just go on stage and say a line or do one piece of prop moving or dialogue, once you get on that stage, that is your stage and girl, you better work."