From the ground up
Rider students thriving with small businesses
Most students would rather spend their free time studying, sleeping or doing something recreational. But for Rider's Kendall Grimes, Allison Clancy and Elaine Au, they've used their spare hours to earn money by creating their own businesses. 
Grimes started mowing lawns because he was bored. Clancy began producing jewelry to "spread joy through cute accessories that everyone can enjoy," while making stickers is something Au has always wanted to do. 
Grimes has had his lawn mowing business the longest. He began cutting grass three years ago, and it has since blossomed into a bigger priority. 
"I had a lot of free time, and I didn't like being bored," Grimes said. "I wanted to find a way to make money. I realized it would be a good use of time and an easy way to make money." 
Grimes's business expanded greatly as he mows 5-7 lawns per week. He spent his summer "working, scheduling and dealing with equipment maintenance." Now that schools have reopened and football season has started, Grimes has had to slow down the pace of his business.  
"I've made five grand this summer," Grimes said. "I made a lot of growth this summer, and I'm looking to grow even further next summer too."
Clancy first opened her jewelry business a year ago. She established AlliAnn Designs in the summer of 2019 and has since created a website for the company. 
"I first launched it through social media and kind of reached out to students at school," Clancy said. "I didn't really have any expectations. I just started it for fun, and then it got more serious as I went on."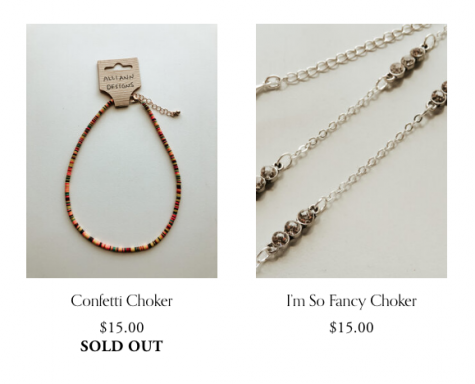 Since then, Clancy has made around 425 sales. She first aimed for her business to be local, but since opening, she's sold products to customers in 20 states. 
"I plan to keep reaching more and more people and ultimately just spreading God's love through my products," Clancy said. 
Au is relatively new to the entrepreneurship world. After three weeks of promoting and teasing her new business, she launched MiscELAINEousByAu two weeks ago on Etsy.  
"I've always wanted to start one," Au said. "I did have little, tiny mini (businesses) before, but they were never something serious, so I just decided, why not?"
Au has made 41 sales in two weeks. Though her expectations were not very high, Au was pleasantly surprised at the number and is excited to keep expanding her business. 
"I hope that I can have my own website, so I don't have all the fees from Etsy," Au said. "I hope that I grow a larger following so that I can sell more things."