Q/A with volleyball coach Alysha Humpert on upcoming season
The Rider volleyball team opens the season Tuesday night against Iowa Park. With a new year comes new players, dynamics and challenges. The Rider Chronicle sat down with head coach Alysha Humpert to discuss COVID changes, strengths and new faces for the 2020 season.
Q: What are the biggest changes and challenges you are facing this year due to COVID?
A: I think the biggest challenge is probably from a coaching standpoint when we are in practice would be remembering that we not only need to take water breaks but mask breaks. You get conditioned to say 'OK water let's go' but you need to remember you need to take an extended water break to make sure they have enough time to recover and things like that. I want to make sure the girls feel like they are getting enough recovery time. From a facility standpoint I'm coming to find out is making sure that people in the stand are abiding by rules, like referees coming in and opposing teams and just with the situation that happened with football. One kid got it and we thought everyone else would be OK with their masks on. Our health department decided differently, and kids had to quarantine that we didn't think would have to. So just making sure everyone follows the rules so we can have a full season is kind of a different stress. 
Q: How challenging was altering the schedule due to restrictions? Has it had any major impacts on the season?
A: Challenging…. Absolutely. And talk about kind of crazy and not exciting I would say, but keeps you on your toes. I was on vacation and UIL came out with the ruling that 5A would start Sept. 7 and one day of vacation my phone was going off all day. I had about 100 text messages because we had prepared ourselves to play some tougher 4As and they couldn't play us anymore so we had to get together and figure out what teams we couldn't play. Tarrant County told people that they couldn't do anything until late September. That was later overruled by the governor but at the time we didn't know that, so a lot of the 5A West Texas schools that are in the district together reached out to us and we reached out to them. So it was definitely challenging to fix the schedule, but I think things happen for a reason and it's kind of refreshing that we're gonna be playing different teams instead of our normal two-year rotation. 
Q: What/Who are your biggest strengths this year?
A: I wouldn't necessarily say there is a person that is our biggest strength. I think we have always had really competitive people in the program. They have always done a good job of pushing each other and I think that this year our biggest strength as a whole is just maturity. Last year we had almost the same amount of starters and we lost a few good ones, but I think the mental game is a lot different. A huge advantage for a lot of teams right now, especially if you have that if you have that competitive drive in you, is that they are just hungry to play. They haven't had the opportunity since club and school were shut down, so a big strength is our mental game. We are able to p-r-p (play-recover-play) more and then I just think we are excited and ready to touch the ball.
So excited for this season! Let's go LRV! pic.twitter.com/GtWGmi0qNL

— Todd Chamberlain (@Tchambo70) September 14, 2020
Q: What are the advantages and disadvantages of a 17-player team?
A: An advantage is definitely just the quality of our practice. We have had some awesome three-out-of-five matches among ourselves and we will literally play three out of five sets with the same teams of both sides. So I think the upside is the fact that we get lots of game experience in practice because I run my practice to cater to 17 people so there aren't a lot of people standing around. The disadvantages are, obviously, sometimes playing time but I try to encourage the girls that you can't judge how good you are or your self worth based on how much time you play, but by how hard you work. There are going to be a lot of aspects in life where you work super hard, but someone is just always going to beat you out. But you can pride yourself knowing that you pushed hard because, collectively, if we scrimmaged hard and we are pushing each other and I see that our stats are improving weekly, overall our 17 bodies are improving our overall game and hopefully we can continue to push that competitiveness throughout the entire season
Q: How did the first two scrimmages go and what was learned from them?
A: The Grapevine coach and I, which is Coach Dillard's sister, were talking and were saying we're either really, really good or not as good as we thought because you've been scrimmaging yourself for so long you kind of start to learn your tendencies as a team. I was definitely impressed with how we played against Grapevine. They are a very respectable program, their coach is very knowledgeable and we definitely held our own. We have such height at the net and athleticism that we were touching balls or funneling balls because we had hands and it allowed our defense to get to the ball. We've been focusing a lot since Aug. 3 on serve receive and tracking every ball the girls touch so they can know how they can improve. It definitely showed because our serve receive was really really good and last year we kind of struggled with that as a whole. So I was super impressed with the girls and their excitement and they're definitely ready to get today going since it's our first official game.
Q: Are there any newcomers we will be seeing a lot of on the court?
A: We have a bunch of newcomers actually and I think you will see a lot from Libby Featherston adds a spark and a fire, give her a critique or you give her a stat and she is constantly trying to prove herself and she's awesome. She definitely takes feedback really well. Jenna Redding is super fast, we just have to control a little bit of her speed. Sometimes she gets to the ball, but we have to make sure her body's ready. We have a lot of newcomers, such as Kendall Toliver and Lexi Carter, that are adding a lot to our overall play. Some of them may not step on the floor that night , but ultimately, watching us scrimmage it's really fun and competitive and it's gonna help the overall outcome of a match.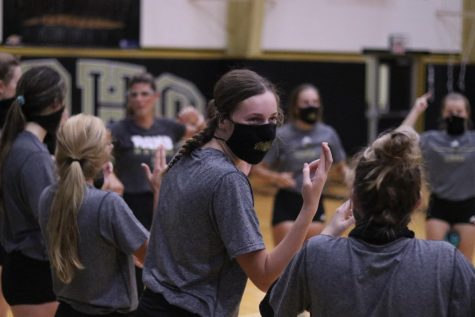 Q: How do you feel about the new district? 
A: I love that there are not five teams. It was so brutal for two years since I'm so used to seven or more and with five you are either on top and stay on top or if you are a learning team, which I felt we were last year since we had a big group leave the year before, you don't have a lot of room to bounce back if you make mistakes. We did have some slip-ups and learning moments. We lost two matches that went five sets and that hurts you when it comes to district but we definitely learned from those and you remember those losses. So I think having six allows a couple more games, which I'm excited about as well as to have the different locations, adding Azle, Brewer and Granbury. We've never had Granbury in a district before, though we had Azle and Brewer my first few years at Rider. 
Q: How does this year's team dynamic differ from last year?
A: Last year we had amazing girls. I've been doing this for 10 years and you see waves happen where you have a class that is there for so long and then once they leave, the year after there is kind of a sense of 'what do I do with my hands'. They were leaders in our program for such a long time and we had great kids last year, but there was just never a true fluid connection. Part of that is due to the divide of grade levels because we had a lot of sophomores and then a lot of seniors and you would like to say that would take a part, but it does. This year everyone's a little closer in age and those sophomores last year that took some growing pains on the floor are going to be a little more mentally prepared this year for those outcomes.