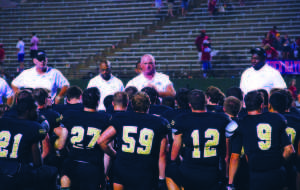 Shannon Pyle, Reporter, Feature Editor

October 16, 2013
It's Friday night and the players fill the pitch black locker room, having quiet time with the lights turned off and headphones out. "We slow it down before we go just to get everyone focused and ready," senior Landon Ross said. Everyone gathers together for one last pep talk before the...
September 21, 2012
Staff photojournalists Jordan Starks and Trang Mai and reporters Mallory Adams and Cole Payton share the final play of the Raiders Vs Amarillo game and interview Coach Garfield and QB J.T. Barrett.
November 23, 2010
The Rider Raiders football team has secured a playoff spot and are headed to the 4A division 1 playoff bracket after a 56 to 2 victory over the Denton Broncos. With the win the Raiders have locked up second place regardless of the outcome of the crosstown rivalry with Old High. The Coyotes, whose playoff...