Coach Achieves NFL Dream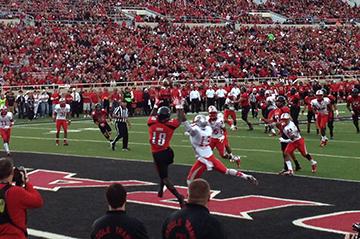 As a Rider Raider football player, teacher Eric Ward had a dream. He wanted to play in the NFL. The dream wasn't new.
As a junior at Texas Tech, he was projected to go in the third round of the NFL draft. He opted to stay in school and get his master's instead.
That wasn't supposed to change his NFL prospects.
But something did.
"Success can be taken away from you in a blink of an eye like it happened to me," Ward said. "I'm the all time leader in receiving in Texas Tech history. I've broken records from Richard Crabtree, Danny Amendola, Joe Fulani, Wes Welker but I still went undrafted. All those records I broke in college; I caught 255 passes, scored 31 touchdowns. 3,000 yards receiving but I still went undrafted."
And he stayed undrafted.
He did sign on with Tennessee as a free agent, but he was injured in practice.
That injury led him back to Wichita Falls and Rider High School where he started coaching.
It wasn't his dream, but he would make the most out of it.
"I'm fine with coaching because I'm doing something I enjoy and I know about," Ward said. "I figured this was a great opportunity to help other kids get better weather it be in football or in life
In an interview with Times Record News a reporter asked if he would ever play football again.
He asked me would I play football again or will I be a full time football coach and I said Lord willing if the opportunity comes I would play football because I'm not done yet.
That opportunity has arrived. On New Year's Eve Ward got a call from a number in Ohio he didn't recognize.
"I don't know anyone in Ohio so I call the unknown number back and a lady answers and says she works for the player personnel for the Cincinnati Bengals and she says we need you to come in.
"I'm thinking to myself, me?
"And I look to my wife. I wake her up because it's early in the morning and I say the Cincinnati Bengals just called me and she was like 'What?!'"
Ward said his wife was ecstatic and excited. But Ward was unsure.
"I thought to myself 'I know I can coach football now, but I haven't played in six months,' and I told my wife 'I don't know if I'm in that fine tune of shape to go out there and play football for an NFL team right now.'
"My wife looked at me and told me, 'if you don't do it now, you don't know the next opportunity that will come and you will always regret that what if.'
That was the encouragement Ward needed.
Ward flew from Dallas to Cincinnati that day. When he got to his hotel, a text message said to meet in the lobby at 7.
After that he was taken to the stadium and from there to the locker room.
"I walk in the locker room I see Jermaine Gresham, Andy Dalton, and three lockers down I see A.J. Macaroon, and I was like wait a minute this real."
After getting his practice clothes, Ward went out to the practice field to warm up and sees AJ Green.
It was definitely real.
Ward started running routes in front of head coach Marvin Lewis.
"I knew I had to pay extra attention on the ball because when it's cold the ball feels like a brick when you catch it," Ward said. "I can't express how bad my hands hurt when I caught the ball, but I knew if I dropped a ball I would get sent home. I couldn't drop a ball. One of things I take pride in is my catching because I know can catch.
He caught every ball.
The head coach said "Sign him. He's going to work."
"I was shocked," Ward said. "When I got my contract just to be on the practice squad, I couldn't even write my name."
For Ward, that contract was the start of a dream.
"I thought back to the tribulations and trials when I got hurt," Ward said. "I felt like I'm done I can't play again. That's what you think. It's the NFL, not like high school trying to make the varsity team. My goal in life as a little kid was to be a professional football player, and I took a shot at it and the first time it didn't work, but once you get knocked down you got to get back up and keep walking."
Ward said he didn't give up. Not even when a fellow coach told him, "you coach football when you can't play any more."
"I felt like I was doing it backwards." Ward said. "I guess opportunity knocks and everything happens for a reason."
Ward feels like he learned not to give up.
"I know what being at the bottom feels like, and it doesn't feel good. And I know what being at the top feels like but at the same time you got to find that happy medium," Ward said.
Ward found that happy medium coaching.
And now he gets to live his dream.
"Everything happened, for one, to open my eyes and see there is more to life than just football," Ward said. "As being a football player most kids get the mind set that football is all that matters and that's not the case. Education for me was most important because without my education I really would have been lost.
"I know I go out there and make an impact on a team but at the same time I know I can change a kid's life by impacting them with positive influences, helping them achieve stuff that they never thought was possible for them and on the football side helping realize that they have great potential no matter if they're slow, fast, tall, short, big or wide it don't matter football is a game it's a game of inches but there is no height limit or weight limit. It not like you're trying to get on a ride at Six Flags it's a game and you just go out there and play your best.
"Anything you want to do in life and you believe in it you can achieve in it, but if you doubt yourself you'll never realize your true potential."
Leave a Comment