Student's Relationships Urge Her Onward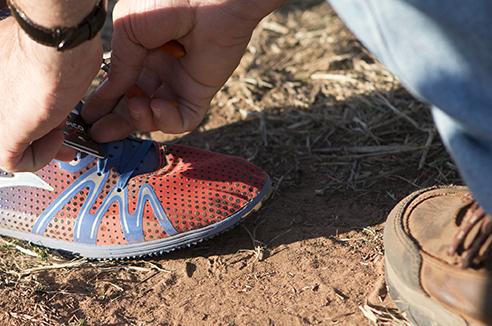 "Riley Anderson and Caitlin Pawloski told me that I should try cross country and track, and I was like 'What's cross country? What is that?' I thought it was going to be a side thing, but it turned out that I loved it. They were the ones that got me started. And then I grew to like it more, it became my sport."
Nov. 8 that sport took sophomore Taylor Mendez to State.
"State was pretty big, very chaotic," she said. "Tiny spaces, lots of people, it was so fun to compete with the runners because they are the best of the best."
But to Mendez, her team was the best, because on her way to State, Mendez had to compete in regionals and there her team proved their support for her.
"I asked the team to each write a little note to Taylor, so that on the day of regionals, I could give it to her," sophomore and teammate Trisha Nicholas said. "Since the entire team couldn't be there, we thought we could be there with her in note form."
The sweet gestures encouraged her to do better, Mendez said.
"We did it because she didn't qualify for regions last year, but she was really, really close, so it was a really big moment for her," Nicholas said.
Mendez said that her family also plays a major role in her support system.
"Usually my mom will come to my meets, and my dad will stay home with my little sister, or vice versa," she said. "But they both came with me to State and they had to leave at 4 in the morning to get there on time. My family had this big group message with all of my family, and my phone was blowing up."
And with her "bridesmaid" Nicholas by her said, Mendez took on State while "trying to ignore the nerves."
"I was trying not to stress about the race while warming up," Mendez said. "Whenever he shot the gun, that was when it was real. I felt like everything before that had been a dream up until then."
But once that noise from the gun rang out, the cries from the stands and shouts from coaches sounded just as loud, Mendez said.
"It's fun because the chatter and sounds get you hyped up," she said.
And Mendez said while the sport is "easy as in that it is just left, right, left, right," it is mainly mental and requires focus.
"It's hard because you constantly have to tell yourself to keep going," she said. "You have to push yourself a little harder every day, and sometimes you think that you want to quit like when the gun goes off and you sprint forward, but then you remember all your work and just go."
The times that Mendez wants to give up are the times that Nicholas pulls her back.
"Her face gives it away when she gets towards the end and she looks tired, but I tell her to keep going because the finish line is right there," Nicholas said. "You can't give up after all that work. All your hard work has lead up to this moment and you can't give it up. Give it your all."
To Nicholas, Mendez's accomplishments have just begun.
"She is one of the hardest working people on the team," Nicholas said. "She broke two track records her freshman year, imagine what she will do the next two, three years to come."
Leave a Comment