Last Year. Alone.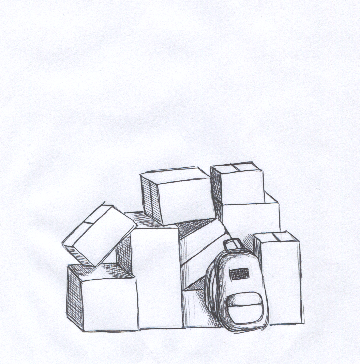 Senior year is supposed to be exciting and something to look forward to. You are nervous about prom and who is going to ask you. You have all these senior activities that will make great memories for you to look back on in the future.
There is just one thing wrong. My parents made me move to a completely different state to spend my senior year with people who talk funny and drive big trucks.
I moved to Wichita Falls, Texas my senior year. Not only was I mad at my parents and upset that I had to leave all of my friends, but I was scared. Scared that the people at school wouldn't like me, and they would think that I'm weird. Scared that I wouldn't have any friends all year. I began to worry about all the minor things.
The first day of school wasn't as bad as I thought it would be. Everyone was in the same boat as me when it came to finding out who your teachers are. It was all the days following that really killed me. No one seemed to notice me, and the ones who did, looked at me like I was out of place and didn't belong. I remember going home one day after school and crying to my mom. It was two weeks into the school year and I still knew no one. My mom just held me and told me to keep my head up and smile.
Making friends was only half of the battle. I had to start thinking about college too, even though I was supposed to be thinking about college since freshman year. Finally, I made my first friend, but even then, I still felt alone. Maybe it was because that friend had no idea who I was, and I didn't have a clue about who that person was. I felt like I was walking on eggshells.
Over time I began to get more comfortable and I started to make more friends too. I found someone to eat lunch with and that turned into hanging out on Friday nights and sleepovers. This hasn't been an easy thing for me to do, but I have slowly gotten more comfortable with the people around me, and I've made some great friends, in fact, they are some of the best friends that I've ever made.
Leaving home was not easy for me, nor will it ever be, but it helped me become more independent. I now realize that I don't need someone to make me happy. All you need is that one person who can lift you up anytime. I call her mom.