Flu Season Officially Here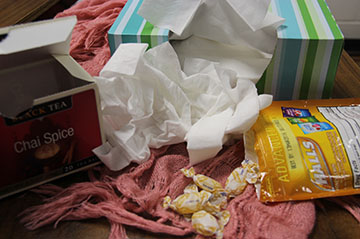 Flu season is officially here.
Flu and flu-like symptoms have been filing in the Wichita Falls Public Health District offices for weeks.
"The health district is highly encouraging everyone to be vaccinated as soon as possible," The Wichita Falls Health District said in a public news release. "This year's flu vaccine, Quadrivalent Influenza, is effective and covers four strains of the Influenza."
The health district reports that if someone should catch the Influenza after having the flu shot its effects will be greatly minimized compared to having no flu shot at all.
Senior Brittni Coss did not receive a flu shot and acquired the Influenza this flu season.
"When I contracted the flu it was very sudden," Coss said. "I was with my friends hanging out in my living room and I unexpectedly felt very nauseated and dizzy."
Like many other teenagers, Coss leads a busy lifestyle, but she regrets not receiving the flu shot.
"You can't be medicated for an illness that includes an excessive amount of puking," Coss said. "I pretty much had no choice but to let it run its course."
Being a member of the Powerlifting team, Coss explained how her body reacted to contracting the Influenza, and how it affected her recovery and training.
"I lost eight pounds and was very malnourished," Coss said. "It took me a good three weeks to recover from the illness and get back to my regular work out, eating routine, and everyday lifestyle."
Wichita Falls Public Health Prevention Coordinator Al Gonzales says that the best way to prevent infection to yourself and others is to simply wash your hands often with soap and water.
The Health District is open for walk-in immunizations on Thursday and Friday from 1 p.m. to 4:40 p.m.
Leave a Comment