Ride on, honorable one
Football player Kaleb Honea leaves lasting legacy on Rider community
Months have gone by since Rider football player Kaleb Honea passed away following a serious car accident in late July. However, the 16-year-old's legacy continues to touch the lives of those around him.
On Sept. 25, Honea's teammates dedicated the first game of the season to their fallen brother with "Kaleb Honea Night," proudly honoring No. 42. His presence was felt as the Raiders scored 42 points, and the game ended with the ball resting on the 42-yard line.
Rider head football coach Marc Bindel admits that watching the pregame video played in Kaleb's memory was difficult.
"When they showed that video that Chad Johnson made, it hit me pretty hard," he said. "I had a hard time controlling my emotions at that time."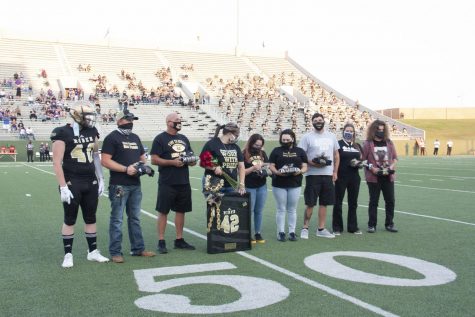 Kaleb's mom, Amanda Bolding, has made an effort to support the football team at every opportunity throughout the season, having "no doubt" that her son is still on the field and playing with his teammates in spirit.
 "My son was committed to his team, and I am committed to him even now," she said. "So, with tears and a broken heart, I will be at every game, rooting on those boys."
For Kaleb, his teammates were like family members, many of whom he had played with for several years.
 "He's always been a safety behind me, and I've always been a linebacker," said junior Logan Rex, who had played on the same football team as Kaleb since first grade. "It was a duo that was unbreakable, and it got cut short."
Those closest to him knew Kaleb as a humble spirit, always seeking to give back. Kaleb's teammate, junior Coleman Bledsoe, described him as a "team player."
"It's not that he didn't want the spotlight on him," Rex said. "He just didn't want it overly on him. He wanted everyone to be recognized, not just him."
Outside of practice, Kaleb spent his days exercising, playing on his Xbox, working at McBride's and spending time with his friends, his family and his girlfriend. Memories of kindness, passion and unstoppable work ethic are what now keep Bolding's mind at ease.
"That when people talk about him, how he pushed a lawn mower door to door or brought them food when they had none," she said. "That his heart was so pure."
After the accident, Kaleb was placed on life support before passing away on Aug. 4 at Parkland Memorial Hospital in Dallas. Even during his last days, teammates and longtime friends like Rex, Maliq Casimir and Parker Jackson stood strong for Kaleb.
"They have had each other's backs growing up," Bolding said. "They had his back during those 16 days, and I will have his back by standing tall for those boys in his place."
Kaleb's legacy is now a different one than what he may have been intended. Though his "ambitious dreams" to pursue professional football or own a lawn company will never be realized, his memory has united community members with organizations such as Sale Barn Cowboy Church and Texas Blood Institute through fundraising efforts for the Kaleb Honea Memorial Scholarship.
"He would be happy that he is still helping others. I'm selfish because I would have rather it been any other way," Bolding said. "But I had 16-and-a-half amazing years as his momma, and I hate that more people didn't see how amazing he was."