Happily Ever After
Senior shares her story on being married while in high school
Once upon a time, Anthony Glassburn was a senior walking down the halls alone when he noticed Nancy Garcia, a junior at the time. He smiled at her every day just like he would one year later when she walked down the aisle on their wedding day. 
The couple started dating last year, and on Nov. 11 Anthony went out with a ring and a burning question to Lake Wichita Park. 
It wasn't the ideal weather for such a milestone, but he knew who he wanted his ideal partner to be. 
 "I just went out on the coldest day and the windiest, you know perfect time, perfect marriage weather,"  he said. "I said it's OK to be scared and you can say no if you want to, but will you marry me?" 
Nancy was left in a state of shock despite the many conversations they had beforehand. Her only answer to him was yes with tears in her eyes.  About a month later, the teenagers were married. 
"It was just kind of a big surprise to me because I didn't know he was going to do it," she said. "I said yes, and it was one of the best decisions I've ever made if I'm being honest."
Once she returned to Rider for her final semester, marriage life changed some of her social interactions in an unexpected way. 
"Throughout my engagement at school I was really bullied a lot by different people, people that I didn't even know and that was the hard part for me," she said. "I've always been the nice one that tried to help people, and Anthony helped me understand that people don't need help and that sometimes people don't care if you're the nice one."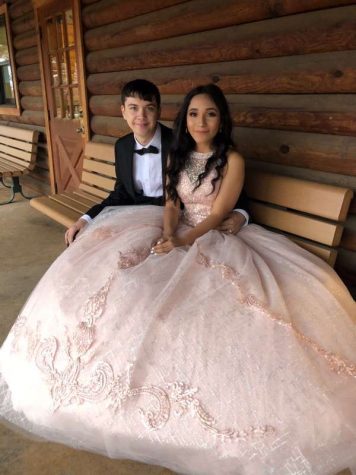 Nancy has always heard about the illustrious high school dream, but she never bought that perception. Waking up and going to school had become monotonous until Anthony came along. 
 "I didn't think that anything would ever be as great as it is now," she said. "He's made me a better person, he made me feel like I have someone who cares about me unconditionally. I love that." 
The story started with a few rounds of Mortal Kombat at a friend's house, which led to an Endgame showing as an outing and then to a real date at Kung Fu Kitchen. 
"(It was there) when I knew that I was really, really falling for him," Nancy said.
With a ring on her hand, the pair faced a surprising reaction from their families. Anthony was the most shocked by his side's tame response.  
"She (mom) was really supportive and my dad was also really supportive, and I did not expect that from him," he said. "I expected him to be like, 'No, you're too young. Blah, Blah, Blah.' It was going to happen with his approval or not, but it was nice to see him being supportive." 
With Anthony's personality it wasn't a question if the marriage was going to happen.  
 "My mom knows how stubborn I am," he said. "If I want something, that's going to happen yes or no what she says, and so I think it was when I was three she gave up."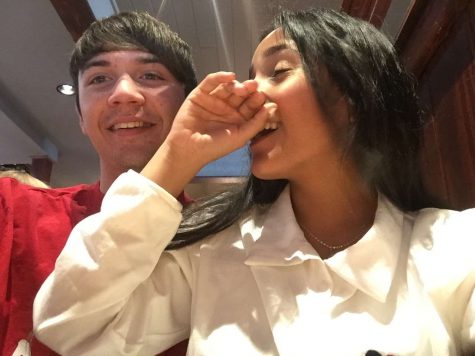 Nancy's dad knew he was the one for his daughter even before the marriage was announced. 
"My dad really likes Anthony," she said. "He thinks he is one of the best guys there are right now, because there's not really a bunch of people that are grown enough mentally to get married and to be like OK I can do this." 
Anthony said Nancy is the first person he's been able to be more honest with. 
 "She's made me open up to a person about things that I have not opened up about with anybody else," he said. 
However, getting to the altar was a process. Being from a traditional household, Nancy's family incorporated some customs into her wedding. The preparations came together once their families gathered for Thanksgiving. They planned to wed at 3 p.m. on Dec. 22, and Anthony picked out the dress per tradition.
This wasn't just a day for the couple, but their families as well. Nancy's dad selected her shoes, her grandparents sent the gold earrings she wore and her uncle bought the official wedding rings. All of these came from Mexico. 
   "It was just beautiful to see my family all come together like that because it had been such a long time since that's happened," she said. 
Outside the dressing room, a usually calm Anthony could feel some pressure as he answered the priest's questions. 
The wedding started with flashes from adoring family members and a strange sight of Nancy's best friend Analisa bawling her eyes out.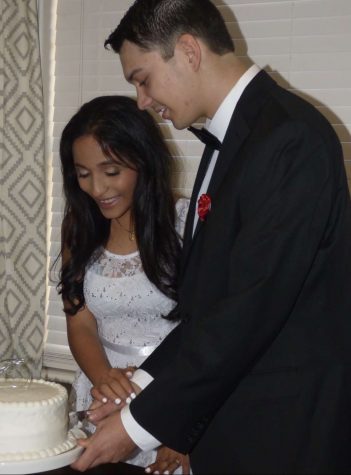 "The first time he saw me I was walking down the aisle, and that's when we both got really happy we were almost in tears," Nancy said. "Analisa doesn't cry…. to see her in tears makes me feel happiness, it made me just feel like I did the right thing."  
Afterward, the couple moved in together to Anthony's old childhood house he bought from his dad's ex-wife. It was perfect timing, but there was another motivation for that residence. 
"It gives me a chance to start on my own and to accomplish what my dad never could, because he had four divorces in this house," he said. "I want to come back here and make one (marriage) work and prove where he went wrong." 
There's a lot of glamour surrounding newlywed life, and for the Glassburns it's adventurous and has not only met but surpassed their expectations.
"I was expecting to come home to a loving wife who's going to support me and listen to my day and listen to her and see how compatible we are," Anthony said. "So far that's my favorite part." 
Waking up next to each other, Nancy packing a lunch for Anthony, leaving for school or work has become routine for them. Anthony, who graduated from Rider last year, works for a glass-making company on the edge of town. 
Coming home to each other and the pile of boxes that await unpacking is now a normal sight. It's also a slight bump in the road to a smooth transition into married life as they both had to move across town, causing a financial strain. 
"The hardships so far have been moving in together and making it work," Nancy said. "There's never really a moment where I'm like, 'Oh god, I wish I hadn't married him.' Because at the end of the day, he's my person and we're going to make it work no matter what things come toward us."  
They both said love was the reason they joined hands under their wedding arch that December day. They'll celebrate their first Valentine's Day as husband and wife with a romantic dinner. 
"Yeah, I'm married, yeah I'm happy and I hope that one day everyone else is too," Nancy said. "That you guys find what I've found because it's lovely, and once you get it, you're not going to want to let it go."
Leave a Comment