Breaking the Record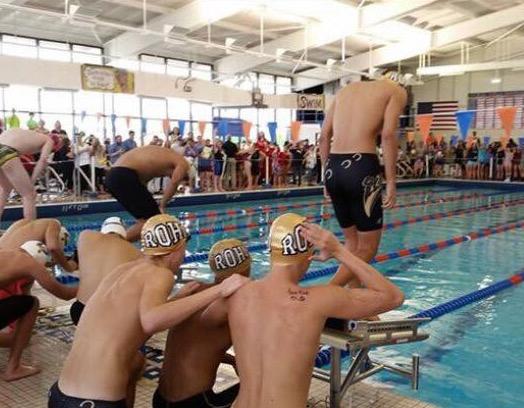 Hang on for a minute...we're trying to find some more stories you might like.
Barely a month into the swim season, the Rider swim team is already seeing incredible success.
On Saturday, October 29th at the San Angelo Invitational meet, Luke Ward, Matt Luong, Brandon Malone, and Kris Kwaramba broke the school record in the 400 freestyle relay. It took thirty-two years to beat, leaving the swimmers shocked and ecstatic when they had finally done it with a time of 3:31.90.
"It was amazing," Kris Kwaramba said, "It was something I've never felt. I just still can't believe it to this day, but it was great. It made me feel like my team and I were improving."
Swim coach Oyvind Zahl, who began coaching for WFISD in 1998, had never seen a relay team even come close to beating the record.
"We've had good swimmers at Rider," he says, "but it takes four good swimmers to make a good relay."
Zahl believes that it's their drive that makes them so successful. For Malone, what pushes him is his fear of failure. For Kwaramba however, it's the record itself.
"Every time it's in my head and I just want to break it every time so I need to get faster," he said.
Their ambition to go to college shows that these boys work hard in and out of the pool. Luke Ward is currently applying to the Naval Academy in Annapolis, but ultimately wants to go anywhere he can swim. Such ambition is vital to the team, seeing as if you fail a class you can't compete.
"If everybody keeps working hard and passing grades," Zahl said, "I think we can possibly win district and we'll have several going into regionals."
This record isn't the only one that has been beaten this season. At the first meet in Abilene the same group of boys broke the school record for the 200 freestyle. With the way things are going Matt Luong is confident that the team will continue to succeed.
"It's a great start, but we can't let it get to our heads. We still have to work as hard as we have been. It's good to start off that way as long as we stay focused and keep wanting to push," he said.