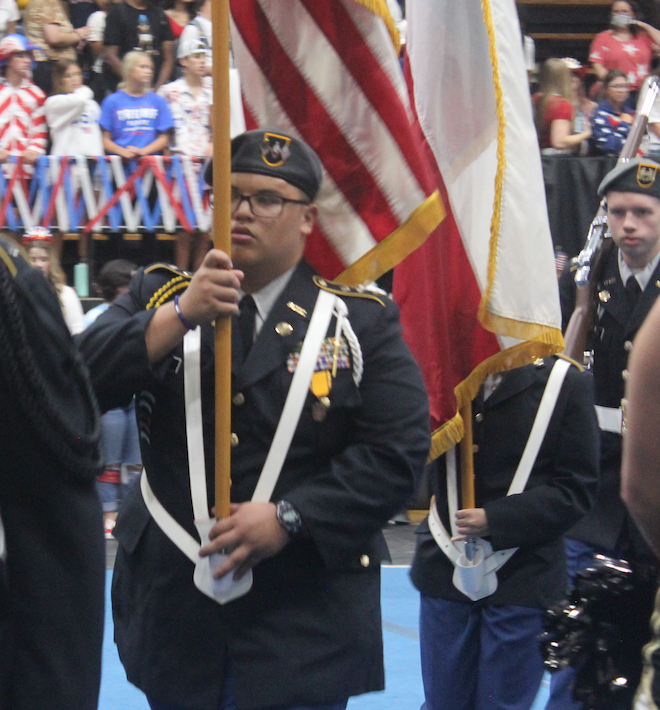 My'Kyla Hookfin/Rider Media
Friday is a special night as many seniors will be honored at the football game against Odessa High School. The Rider Chronicle sat down with JROTC Colonel Elijah Aguon to talk about the organization and his plans for the future.
Q: How do you like being in JROTC? 
A: I like the classes, because it helps me learn leadership for the kids around me and also gives me a chance to teach other kids. I like working with freshmen or even sophomores that join late. 
Q: What special about JROTC?
A: It's a big leadership course so I appreciate the fact it's a student-led program. We have instructors to guide us, but they let us run it as much as possible, it gives students independence instead of a teacher telling us what to do.
Q: What do you want to accomplish your senior year and why?
A:I hope I can make an impact enough on the program and make students want to stay and take charge instead of just being told what to do. Because obviously there's going to be kids just for PE credit.
A: What's your favorite memory and why?
Q: My favorite memory is every drill meet, because it's basically a get-together with the team. There's always some anticipation and anxiety before showcasing to certain students from all around. It's nice and just a special moment. 
A: What will you miss once you leave JROTC?
Q: Once I leave I'm not sure what I'll do, but it's good to know that you did something for these kids and help them better themselves for the future.
A: What have you learned as a member of JROTC?
Q: It ties back to it being a student-led program. I learned how to be a leader because I used to not be able to talk in a room of people, but now I'm able to control a room when I need to.
A: How have you changed since your freshman year and why? 
Q: Yes I indeed have changed. I used to be very antisocial, but JROTC helped me be able to talk with anybody and not be nervous just for speaking in a room full of people.
Q: What do you want to do after high school and why?
A: I want to join the Navy and be an engineer. It's very non-combative, I'm just not made to sit in a class so that's why I want to join the Navy.
A: What's your last message to your teammates? What do you want them to know?
 Q: They need to know you have a lot of stuff going on, but you can always make time. Sometimes it's a struggle but there's always time. Just don't stress about anything, just let it go and get your mind straight and get going.