Q/A with senior drummer Analisa Alvarez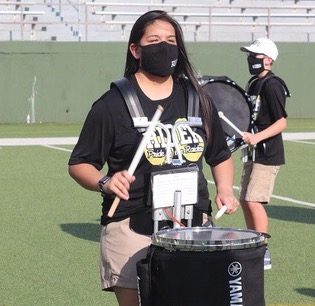 As senior night approaches, many Rider organizations will be preparing to make this a year to remember. Among them is the Pride of the Raiders marching band led in part by senior center snare drummer Analisa Alvarez. The Rider Chronicle sat down with Alvarez to discuss her time in the band as well as her aspirations for the future.
Q: How long have you been in the band and why have you stayed this long?
A: I've been in the Rider band since freshman year, so this is my fourth year. I've stayed in band because, to put it simply, music is my greatest passion. I couldn't not have it in my life.
Q: What makes band special for you?
A: Band is special because I'm very passionate about music, and with the band I have the opportunity to feed that passion. Beyond that though, it's been special because of the memories I have been able to make with the people I have been able to meet. I moved to Wichita Falls my freshman year and didn't know anyone or anything about the city, but being in band has been special because I've gotten to meet other people who share my passions and interests.
Q: What do you want to accomplish your senior year, both personally and within the band?
A: Well, a goal of mine has always been to make all-state. There are extra challenges this year due to the pandemic, but that is definitely a personal goal that I'm working towards. As for the entire band, I just want everyone to have fun this year. It's been a hard year for everyone, and I think that band can be a little reprieve from that, like a little bit of normalcy. I just hope everyone can have a good time.
Q: What's your favorite band memory?
A: I think to this day, my favorite memory was during this one stadium rehearsal my freshman year. We were working on the final touches of the marching show before UIL, and we had this really big impact point at the very end of the last movement. Everything just seemed to lock into place on this one specific rep, and that impact point just hit. I was just this little tiny freshman still getting used to being in a band, so it felt incredible. That was one of those defining moments where I knew I loved music as more than just a hobby.
Q: What about it will you miss once you leave?
A: The obvious answer there is going to be my friends of course. I'll miss getting to see them every day and making memories with them. Event-wise, I'm going to miss the football games most, which is strange because marching season has never been my favorite time of the year. The whole experience from playing in the stands to going to eat after is going to be hard to say goodbye to.
Q: What have you learned as a member of band?
A: I think the biggest thing I've learned is how to pull my own weight. A lot of times, at least in school, your actions are your own, and you have to bear the consequences. When you don't take care of your stuff in band, especially as an upperclassman, your whole section has to take the heat.
Rider Band doing what they do best! @riderband @StuderLoy pic.twitter.com/xPpIdXKHIi

— Troy Farris, Ed.D (@tkfarris1991) September 26, 2020
Q: How have you changed in this organization since your freshman year and why?
A: Being in band has changed me in a ton of ways. I think I've certainly become more mature and responsible, but personally I think band has given me the opportunity to come out of my shell. Being in an environment where you can improve at something that you love to do is a big confidence booster.
Q: What do you want to do after high school? Why?
A: I plan to study music therapy after high school. Music has helped me in so many ways that I can't even describe, and I think there is nothing that could be more rewarding than getting to do that for someone else. I'm really excited about it.
Q: Last message to your team. What do you want them to know?
A: I think I would want it to be clear how proud I am, given the circumstances this year. It would be easy to throw in the towel and have a bad attitude about all the things we cannot do this year, but I think we have worked hard and given good effort despite all of it. I think especially as a senior, I can understand how important it is to appreciate the time that you've got because it honestly goes in the blink of an eye. I'm glad that we can still make something good out of this year.