Into the Game
Senior Emily Stolt returns to the court after missing a majority of her season.
Emily Stolt will reach several special milestones as a senior. 
But one of her favorites happened in an Abilene Cooper gym last month. That's when Stolt first stepped back onto the volleyball court after missing time with an ACL injury to her right knee. 
"I just got thrown into it and played all the way around, which probably wasn't the best thing, but in the moment I didn't care because it was the best feeling I've had this whole year," Stolt said. "I was just so excited to get back on the court again."
Another milestone will occur Tuesday when the Lady Raiders face Amarillo High in Childress for the playoff opener. Coach Alysha Humpert is glad to have one of her veteran players back. 
"I think this team has a lot to give and I think Emily being a part of that mix just makes us have more tools in our toolbox," Humpert said. "We're kind of like a loaded weapon now." 
Although she wasn't able to play after sustaining her injury, Stolt made it a goal to come to every game she could and cheer on her team from the sidelines. 
"It was really hard because I'm usually not on the bench and just watching from a different perspective," she said. "I just wanted to be out on the court more than anything, but I knew I still had to be there for my team, so I had to step up in a different leadership role and just help them in any way I could."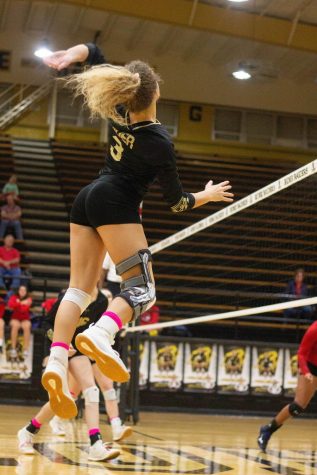 Stolt has played volleyball since she was eight years old, competing for ZIVA since she was 10 years old. Despite not being as tall as other volleyball players, Stolt has proved herself to be a dominant force on the court with her powerful kills. 
"She has a powerful swing, and when that ball is coming at you when it has left her hand, it's coming pretty fast." Humpert said. 
Stolt's injury came fast, too. She was playing on the back row in a ZIVA club match in April when the injury occurred. 
"She was going after the ball and thought the ball was going to her left, and then she shifted to her right and her knee did not go with her," Humpert said. 
Besides her surgery, Stolt underwent stem-cell treatment to speed along recovery. 
"It's helped me grow as a player because I've had to go through obstacles," Stolt said. "The very beginning didn't go as I expected, I thought I could just go right into it and be 100 percent, which it wasn't like that."
Stolt considers herself 100 percent now. Which will be a good thing as the Lady Raiders look forward to continued playoff success.