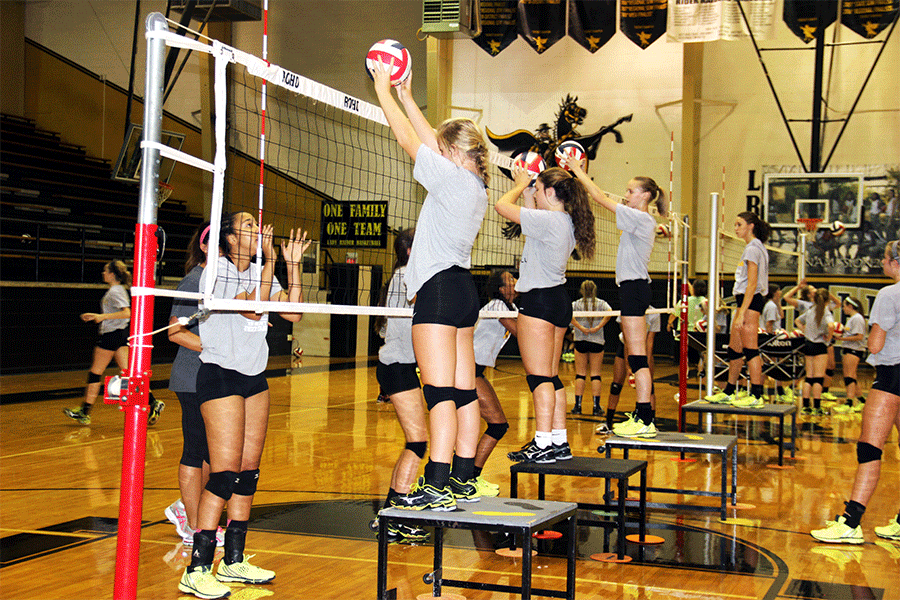 To Bee or Not to Bee
Volleyball moves games from home gym to McNiel after insect infestation forces change
September 28, 2015
Something fell from the ceiling.
Looking closer, junior Libby Taubert yelled. There was a dead bee on the court.
And then more fell from the ceiling, landing in her hair. The bees matched her hair color, making it difficult for her to get them out.
Around her teammates stared at the court floor covered in bees that had been zapped by the lights but were slowly starting to move again.
Instead of focusing on drills and plays, bees dominated the afternoon of Sept. 8. Eventually the call was made to have after school practices and games to McNiel Junior High.
"It was different practicing at McNiel," senior volleyball captain Kelli Barnett said. "You can tell when everyone is quiet and it's just a lot smaller than where we usually practice."
In spite of the bee infestation that led to playing a home game in a different school, the Lady Raiders beat Sweetwater three to zero.
"We did pretty good and just played the game we love," junior Sophie Luig said.
Because of their hard work and effort put in before and after school, Coach Ciuba thinks they have a strong start to the season.
"We just started district play and are 2-0 and are determined to make the playoffs," Ciuba said. "The girls have been working very hard on and off the court, in and out of the weight room, conditioning and working on their volleyball skills and fundamentals since August 3."
Even though eight members of the Lady Raiders graduated last year, this year's Varsity team has overcome many obstacles and won
"This year's team is much younger since we graduated eight seniors last year," Ciuba said.
Although most members of the Varsity team graduated last year, this year's girls have proven themselves with their recent wins.
"They do lack some Varsity level experience since, for the majority of the team, it is their first year playing at this level, however, they do not lack skill, hard work, or competitive fire and this makes up for the other."