Baseball wins State, ready for new year, training new players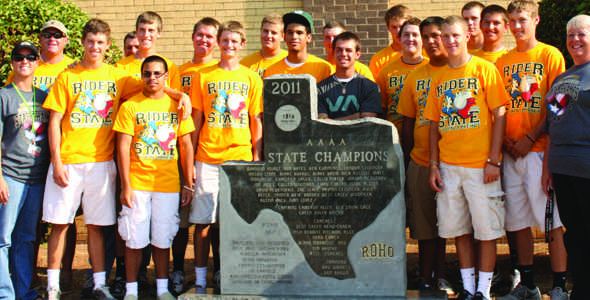 The adrenalin-filled celebration after the miraculous victory may have been the most rewarding part of the state championship journey.
"There was lot of pandemonium and excitement," Coach Scot Green said. "We were celebrating with our fans and jumping on each others' backs."
After the game, the celebration the baseball players experienced was worth it.
With emotion building at the end of the game of 6 outs or 3 outs, the Raiders stayed focused and didn't take their minds off of the ultimate goal.
"We probably didn't sleep much anyway just cause we were so excited," Green said.
After the championship game, the players were both mentally and physically exhausted.
"Someone asked me if I had got off the high of winning the state championship and I said I don't know if I ever did," Green said.
Now that last year's season is over, the Raiders have high expectations to fulfill for the upcoming season.
"You know we lost a lot of our players, but we had a lot that got to experience a part of it [a state championship]," Green said. Last years seniors had a prominent contribution in the victorious attainment of the championship. Especially Cameron Allen who got after the Corpus Christi Calallen player he was facing and made a heck of a catch.
From the transition of the seniors leaving, this year's starters have much to contribute to the upcoming season.
"We had a good group," Green said. "We have a great tradition here so each year something more is learned by some of our players, and that knowledge is passed down to newer players."
That knowledge is passed down each year to guide the new players in the right direction to achieve goals that last year's players could not achieve. This custom is a vital characteristic of the Raider team that ensures new players achieve goals that the previous year's players could not achieve. That's not so easy when the team before wins state, but Green says that championship will help this year's team.
"The expectations are just to play hard," Green said. "They know what it takes to get there, and they know what work they have to put into it."
The expectations enable players to look at what they must achieve throughout the season to work on their flaws to ensure the team's maximum progression.
"These guys have taken on the challenge of just sharing the tradition of just going out there and giving a hundred percent," Green said.