Back On The Big Screen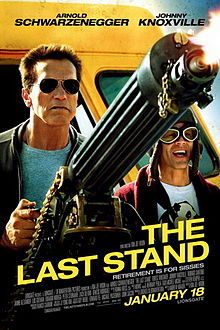 "The Last Stand" is an action/drama film written by Andrew Knauer and will be the first U.S. film directed by Kim Ji-yong. It stars Arnold Schwarzenneger in his first leading role since "Terminator 3: Rise of the Machines" and will have a supporting cast consisting of Johnny Knoxville, Rodrigo Santoro, Zach Gilford and more.
Honestly, I have never heard of either Knauer or Ji-yong, but I do recognize the producer, Lorenzo di Bonaventura, from his involvement in the "Transformers" trilogy.
Although I haven't heard of the writer and director, I must say the premise for this film has promise.
Schwarzenegger plays Sheriff Ray Owens, a former LAPD officer who resigned after a bungled operation left his partner crippled. He's now Sheriff of a border town known as Sommerton Junction, fighting what little crime the sleepy town has.
Things soon start to pick up though, as a drug kingpin escapes the FBI. With an army of gang members, a specially outfitted car and a hostage, the criminal races at 200 mph to–wouldn't you know it?–Sommerton Junction.
Now U.S. law enforcement must make its "Last Stand" here or risk losing the drug lord forever.
Sheriff Owens decides to join the fight and gathers a small town force for the face off. Like I said before, the story has potential. You can automatically tell with Schwarzenneger's involvement in this that it will have some awesome gunfighting action and one-liners, and Knoxville's role as the comedic sidekick should bring a few laughs. All in all, I'm a fan of action films and it'll be nice to see Schwarzenegger back in the lead, so I plan on catching this movie in theaters Jan. 18.