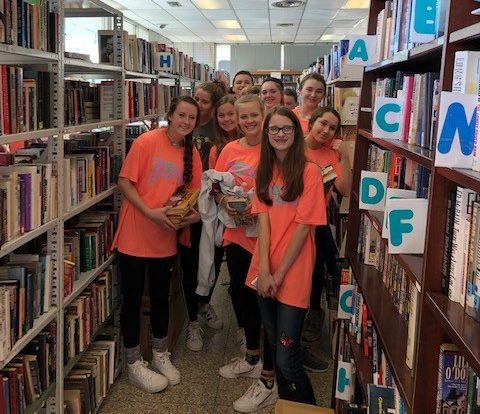 An article published by the Huffington Post explored the idea that perfect standardized test scores don't guarantee admission to highly selective schools. If these colleges are looking for more than just high SAT and ACT scores, what can be done to receive admission to their competitive programs?
The common assumption that standardized testing scores are the only thing that matters on a college application is far too outdated. Colleges now look for students who have taken the time to not only challenge themselves with the hardest courses available but that have taken the time to better the community, a fact that is not well advertised in schools across the country. There are, however, several opportunities to volunteer that students at Rider High School are seizing to strengthen their applications.
Student Council is one of many groups from Rider that participated in Teens Make a Difference on Oct. 27. The group, headed by President Vy Phan, assisted Friends of the Public Library in boxing up books to be eventually donated to victims of natural disasters.
"[Volunteering] can really show initiative and strong passion for community improvement," Phan said.  "Volunteering in general has helped me grow and mature as a person and become less sheltered because it has opened my eyes to real issues that plague our world and community.
Aside from school sponsored events, several students take the initiative to impact the community on their own time outside of school.
Volunteering doesn't always have to be at a shelter or at a hospital. Junior Zayana Uddin has been a part of the Wichita Falls Youth Symphony's ensemble for more than two years, where she, along other music ambassadors, play music for events around Wichita Falls.
"[Ensemble] spreads music all around the community," Uddin said. "It really helps team building and communication because we conduct ourselves during performances."
Some take on volunteer work from a solo standpoint, jumping from organization to organization to collect a variety of community service to present to colleges.
Sophomore Kara Rodgers spent last Spring volunteering at the Wichita Falls Area Food Bank, where she sorted packaged goods and put together boxes of food for local families in need before she headed to River Bend Nature Center, where she prepared crafts and activities for elementary school visitors.
"It's so competitive nowadays, and I know that having a variety of community service on my [college] resume will make me stand out as a candidate." she said.
Though colleges in particular seem to value the individuals who show potential to become leaders in the world, volunteering in high school allows potential applicants to not only cushion their applications but develop their character and teamwork skills.
"The experience I've had with dealing with disadvantaged groups and persons in my community has strengthened my communication skills, heightened my empathy and enhanced my problem solving-abilities." Phan said.