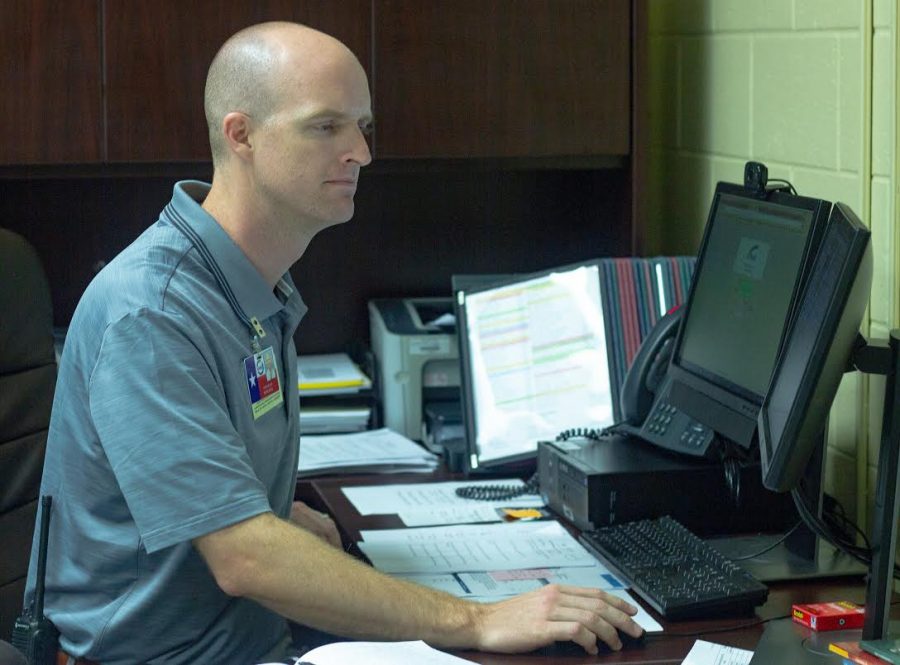 Sheridan Allen
With school officially back in session, students are waking up from summer-long snoozes to face multiple changes on campus. As they walked into school for the first time in months, they were greeted by an unfamiliar face: Dr. Cody Blair, the new Principal of Rider High School.
Dr. Blair replaced Mr. Palmore, who retired at the end of the 2017-2018 school year, but he's not entirely new to Rider. He was an Assistant Principal at Rider for three years before he was promoted to Principal at Barwise, and during that time he received honors from the Texas Association of Secondary School Principals. Along with Dr. Blair, Dr. Faris, former principal at Kirby Junior High has taken a position at Rider as a new Assistant Principal.
With new rule-makers comes new rules, and Dr. Blair has implemented a few changes to expectations for the school year.
The newest and most obvious change districtwide is that students are one-to-one with chromebooks. With that, they are now adapting to a new way of learning, as chromebooks were only available in class sets in the past.
"They help students that do not have access to a computer or laptop at home at a reasonable price, which is very helpful," senior Anna Razavi said. "Now that kids have their own Chromebooks, they are able to save (cellular) data and get used to them at home and in class."
Some students thought that Chromebooks were the cause of another change this year, which is that students will pay for a portion of their Advanced Placement (AP) tests this year. Students will pay $40 of the total $94 for each exam, but Chromebooks are not the cause for this.
"The chromebooks are coming from one budget and the AP tests come from another budget," AP English IV teacher Heather Preston said. "The fact that these things happen at the same time doesn't necessarily mean they're connected."
Another procedure introduced by the new principal is the updated phone policy. Students are no longer permitted to have their phones out in class and are to face disciplinary action if they are seen doing so. Phones are permitted during passing periods and lunch only.  This had been enforced because of the chromebooks that are also being put into action this year. According to the WFISD, students should be able to access all necessary resources for class through his or her personal chromebooks.
"I really like this policy, because it really helps me focus in class better," junior Anna Grisel said.
Another new regulation is that students have to be out of the building by 3:10 p.m. and off campus by 3:20 p.m. Administration announced at each class meeting early last week that this policy was put in place to ensure the safety of the students and faculty of the school, a new "theme" for this year.
"This prevents people from hanging around in the hallways and keeps the hallways clear of people who don't need to be there," senior Ashli Roberts said.
According to Dr. Cody Blair, these new policies are designed to make the school day more efficient in general.
"Our teachers can get a lot of work done once school is over if we are efficient," he said. "We put this system in place to help students get where they need to be as quickly as possible so that everyone can take care of business."
Blair also touched on the importance of learning, and the benefit of the no phone policy this year.
"This policy removes one more distraction what we're really here for," he said. "We're here for learning, and we're here for all of us to get better. That's not just students, because I'm asking our staff including myself to get better and to be learning every day."