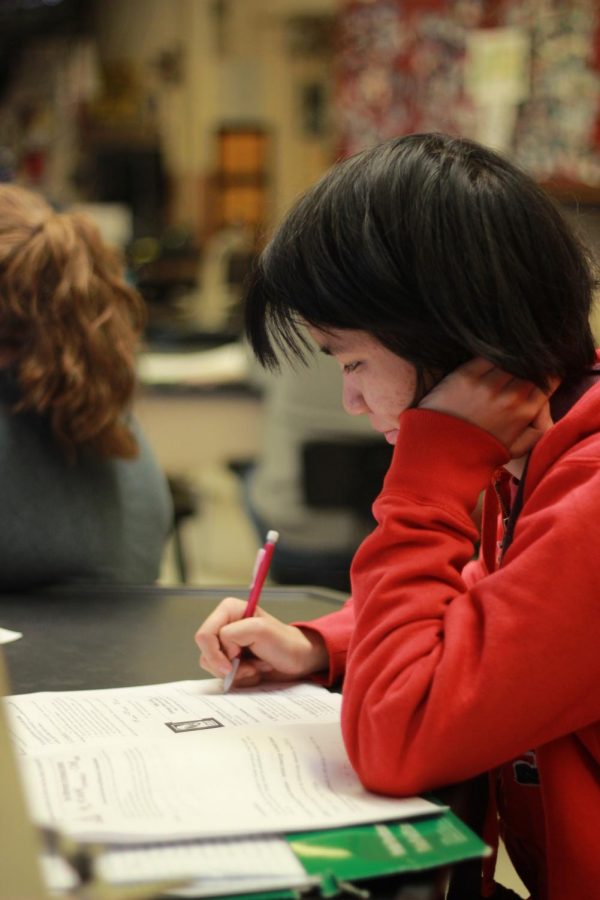 Harley Coxon
Spring is almost here, and UIL academic competition season is already underway. For the sixteen teams representing Rider, these meets, organized by University Interscholastic League, provide a chance for any student, from the introverted brainiac to the outgoing performer, to express themselves while competing for prizes, titles, and scholarships with the rest of Texas.
The teams from Rider have competed in multiple online meets throughout the year but attended their first actual competition in Burkburnett at the beginning of February. In the past, Rider has put up a fight at state, emerging victoriously last year with the Literary Criticism team holding their second place trophy. Though the team fell short by just a few points, they have high hopes for this season.
"It's really hard to follow up the season we had last year," said Heather Preston, Literary Criticism coach, and UIL Academic Coordinator. 
Last year, Kerri Lu, who is currently a junior, placed second individually in the Literary Criticism event. At State in 2016, Lu won the championship.
"I am really lucky to have such a good team, and I think we'll do pretty well this year if everyone keeps studying," she said.
This year, the coaches for the academic teams hope to bring more than one team to State in March to represent Rider.
Jane Ramirez, the sponsor of the four mathematics events, is optimistic about the performance of her teams this year as well.
"We are better than we were last year, and hopefully we'll be even better next year," Ramirez said.
More than any trophy or recognition, the students on the teams have the opportunity to grow as people, interact with others, learn about themselves, and have a blast through it all.
In practice, the Literary Criticism competitors are light-hearted and caring, working to improve together even though they are competing against each other individually.
"We all help each other to study and improve," Lu said. "The team experience of Lit Crit has contributed to our success in the competitions."
The group meets twice a week, taking practice tests and playing games such as Kahoot or Quizizz to increase their knowledge. Their coach, Heather Preston, guides them but enjoys stepping back and watching each student's mind work.
"You get to see a lot of students' personalities that you may not get to see in classrooms," she said.
Preston also added that her favorite part of participating in UIL is creating the relationships and memories that she will share with her team for a lifetime. Competing on any UIL team requires a significant amount of work, and, as the teams prepare for the district meet on March 23 and 24, they understand that they must work harder than ever before to achieve their goals and become one of the strongest teams in Texas.