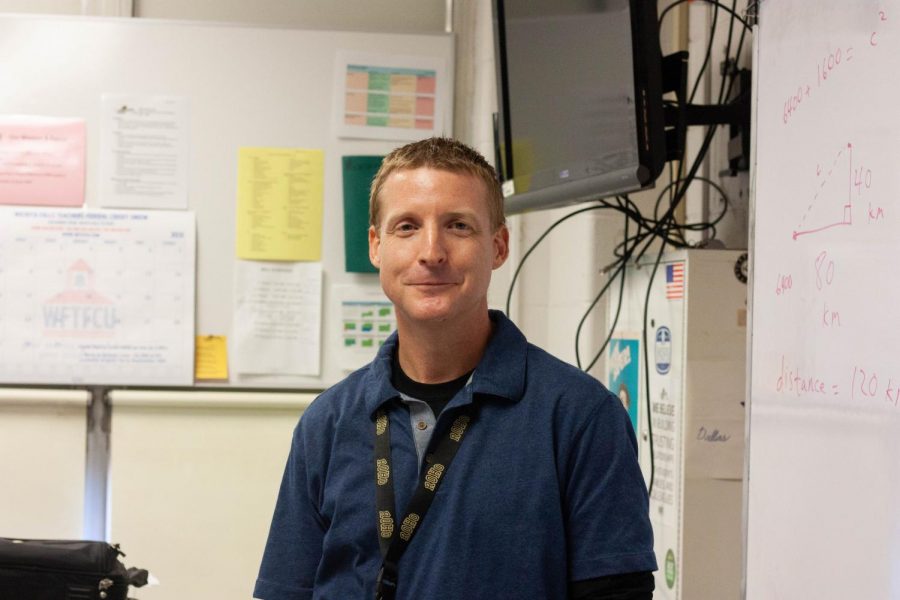 Olivia Davenport
Many students never return back to their old high school, but for new science teacher Jeffrey Mixson, the story has taken a different path. Mixson is back in the halls he used to roam and is teaching in the classrooms that led him to find his passion.
"It's exciting and I'm happy that I came back and can give back to the place that produced me and made me love science," Mixson said. 
Mixson has returned to his old stomping grounds after a journey home that was both compelling and inspiring. He graduated from Rider as part of the 1997 class and went to college at the University of Texas at Dallas. Following college, he ventured into the business world, but it did not suit him. 
"I didn't like it at all," Mixson said. "I actually did it in the first place to move abroad, so I found a way I could do it." 
Chasing his goal, Mixson sold his car, quit his job and left all he knew to pursue an opportunity to teach in Asia. He worked in parts of South Korea and Shanghai, teaching elementary students and adults in the business world. After teaching there for nine years, getting married and having two kids, he decided it was time to come back home. 
It's been over 20 years since Mixson graduated from Rider, but according to him, not much has changed. 
"It's strange how similar it is. One thing is that not using lockers is kind of weird to me," Mixson said. "I noticed that they don't bother to set the clocks anymore. Technology is the biggest thing."
Teaching AP Physics and P.T. Physics, Mixson hopes the students he encounters will fall in love with science — just as he did. 
"I want for them to not just learn science, but to be interested in it and want to find things out on their own," Mixson said.
Mixson's love for teaching was not instantaneous, however, but curated over years of exposure. His mother, who was also a teacher, inspired him to follow in her footsteps. 
"My mom was a career teacher and I saw what she did in the classroom," Mixson said. "I always thought in the back of my mind it would be something I'd enjoy doing. Turns out that's true." 
Now that he's back at his alma mater, Mixson shares a connection with head of the science department Bryce Henderson, as he also graduated from Rider. 
"It's a unique opportunity to be back at Rider after you go through it," Henderson said. "A lot of things change. Some things stay the same, but you're used to the high expectations and I think it makes it easier to connect with the students."
Even though it has only been a few weeks, Mixson has enjoyed his time back on the Rider campus. 
"I'm really happy to be here," Mixson said. "It feels good to be home. I'm looking forward to being a part of the team here."