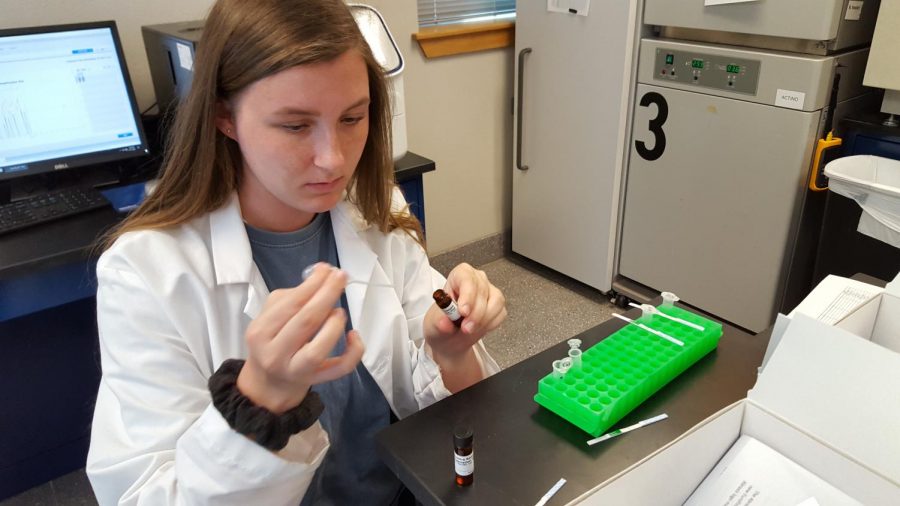 Contributed Image
Senior and Future Farmers of America (FFA) student Alexis Nix's interest in environmental science isn't entirely shocking. The daughter of two scientists, her father Daniel is a Rider graduate who now serves as the city's utility operations manager. 
So when Alexis wanted to study the toxicity levels in formerly algae-infested troughs, she had the best source available to "point her in the right direction." 
Nix placed second at the Texas FFA Agriscience Fair for her project Toxic Tank? Evaluation of Cyanotoxin Release, Utilizing the Copper Sulfate Method of Controlling Cyanobacteria earlier in 2020. 
This was the second phase of her two-year venture. Using a standard formula, Nix discovered the treated water is too toxic for livestock to drink. 
"When she came back and said she wanted to do a legacy project, a second-year project using what she learned the first year, it really did surprise me," Daniel Nix said. "It let me know that she took an interest in it and truly learned something and wanted to carry that forward."
Not only is she the first Wichita Falls FFA member to do an Agriscience Fair project, but the information generated by Nix's research is the first of its kind.
"Many people aren't educated on livestock species cannot drink from livestock tanks without it being toxic to their animals," Alexis said. "We wanted to educate people that there are ways to control it (high toxin levels) and prevent death in companion animals and livestock animals."
Nix believes that FFA, though often misconstrued as an animal-focused organization, inspired her project. The program offers students a wide array of opportunities, including scholarship money.
"Many people overlook FFA about what it's all about," Alexis said. "It's not just animals and plows and sows. There's just so much opportunity within the FFA organization."
Nix credits FFA for teaching her a variety of life skills, including interpersonal communication and public speaking. 
"My freshman year I was so shy, and I just never talked to anybody," she said. "FFA just really helps you come out of your shell and get out of your comfort zone."
As for Nix's future plans, she intends to compete for the third consecutive year in the Agriscience Fair this spring. However, she is unsure whether or not she'll continue her legacy project or transition to another topic. After graduation, she is considering studying agribusiness or veterinary medicine in college.