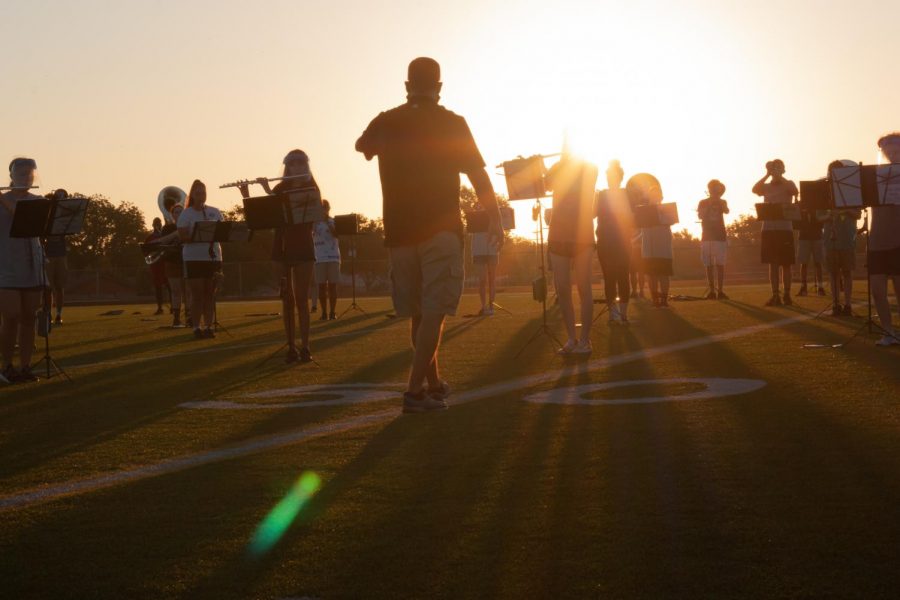 Sheridan Allen
Across the nation, teachers have been forced to adjust their classes to new social distancing policies in order to keep students safe. Some fine arts courses such as choir and band are having to adapt to fit the new health and safety regulations. 
"We had to change the order of how we sing in class," assistant choir director Sarah Cook said. "We have to sing first so that we could have time to clean."
Both the band and choirs are considering holding separate rehearsals in the gyms, auditorium, band hall and the choir room, some of which may not have been used during a regular year. In order to adhere to the safety policies, choir members are encouraged to stand six feet apart in all directions when they sing. 
"We have to spread out and not sing altogether, unless we're in a larger space," Cook said. 
Some members of both fine arts organizations have chosen to learn remotely, changing their involvement in their groups significantly. Remote choir students are encouraged to sing along at home, but mute their microphones.
"It's just not really my thing," said junior Logan Potter, who is learning from home. "Given the lag we already experience just attempting to converse, incorporating a sound system, piano, and small ensemble really bogs down the audio and makes it difficult to hear." 
The two fine arts classes have had to push back their usual agendas regarding performances and concerts. The first choir concert of the year, which would usually take place in the fall will be postponed, allowing time to adjust and prepare for a single winter concert this semester. Social distancing will become a limiting factor in the way their concerts will be set up, not to mention the inclusion of the remote students.
"When we do have a concert, we're going to have to add them all on the stage," choir director Melanie Coons said. "That's going to be people who they've never sung with before that are all of a sudden singing with them, so that's going to change things at the last minute." 
This year, the band will not be performing at the UIL level, but will have a halftime performance. In addition, the length of the show will be limited to reduce the amount of time the students will not be able to wear a mask. To further follow safety guidelines, social distancing will also be implemented into the show. 
"We changed concepts a thousand times, so we're going to just do a college-type show. It's going to be fun, but it's different," band director Loy Studer said. "It's just nice to have the opportunity to actually do band, or even offer it for the kids."
Both the band and choir directors have been blown away by the resilience of their students. 
"They've done an incredible job about accepting the responsibility of doing what they have to do so they can have the opportunity to do this," Studer said. "They obviously like music, but more importantly they love Rider High School, they love supporting the football team and they love doing all of the things that go with it. 
"We want them to have that opportunity, if it's possible. It may be different, but difference isn't always bad."