How to survive Rider-Old High week
A rundown on everything rivalry related
There's something in the air during the first week of November. Perhaps it's the excessive glitter used in the countless posters plastered on the hallways, or maybe it's the 100-degree weather taking a sharp turn to below zero? Either way, early November is something everyone should be excited for, as it's the long awaited Rider-Old High week.
To the new faces (I'm looking at you freshmen), here's a crash course on what goes down during Rivalry Week. 
Rivalry week at a glance: 
Monday
Theme: Superhero Day

Rider vs. WFHS Home Run Derby (6:30 p.m. at Sunrise Optimist)
Tuesday
Wednesday
Thursday
Theme: Western Day 

Round up assembly: Class skits and Mr. and Ms. Raider voting (8:57-9:57 a.m.) 
The Happening: Parade starts at 6 p.m followed by the Happening in the main gym.
Friday
Theme: Black and Gold

Class breakfast before school.

Mum Day (Also known as the best tradition) No talking until the victory bell rings at the pep rally.

Old High beat down starts at 7 p.m. (You need your student I.D to sit in the student section)  
Saturday
Roundup dance on campus: Mr. and Ms. Raider is announced at 9 p.m.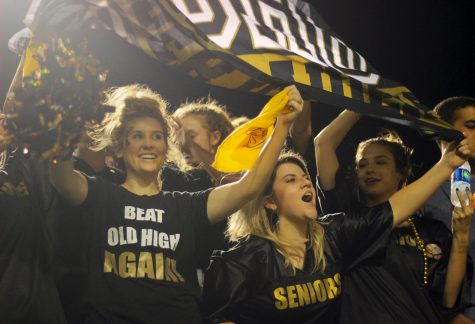 It's a jam-packed week, so here is a dummy's guide to rivalry week, written lovingly by a Rider-Old High veteran. 
Dress-up days are super fun and I highly encourage everyone to at least try to participate. You'll see a lot of weird costumes and some senior girls in Yotebusters. It's basically a Ghostbusters suit for Coyotes. However, there is no shame in everyday clothes (for the most part). 
But, let's get into the real meat of rivalry week, Roundup is a showcase of all the class skits, a comedic (most years) show made by all the grades, which is a change from previous years, plus Mr. and Ms. Raider. First, if you sit up in the stands you'll hear nothing because #Iamwfisd doesn't know how to buy new speakers. Just laugh awkwardly if you don't understand, it's common courtesy. Next, is the square dancing of the Mr. and Ms. Raider candidates. Can't say much about this, it's just dancing.
Let's get to the burning question here, what is The Happening? The parade starts it off, then is followed by a cult seance, with all of us coming into a gym and listening to a past alumni with the lights out. Of course, it ends with a pile of unwanted glow sticks. NOTE: This makes way more sense once you experience it. Pro tip, bring a bag to put candy in because most organizations will pelt candy at you. Glow sticks are highly advised.
Mandy Huynh
Class breakfast is the same, see your class officers for more information.
Now for the big tradition. Mum Day is simple; there is no talking. The only sound on Friday should be the rustling of mums (for girls) and garters (for guys) which are giant corsages. Don't be the guy who talks because you think it's dumb (becasue you're dumb), it's just akward and you'll get so many death stares. If you want to talk to your friends, phones exist for a reason or go old school with pen and paper.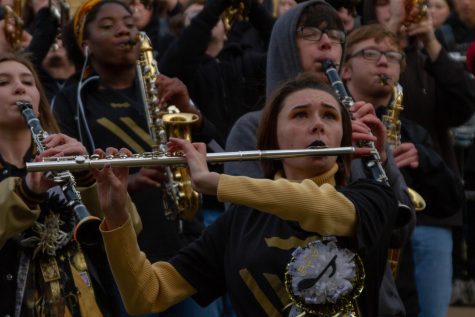 As for the big game it's gonna be cold. Dress appropriately and pocket warmers are advised. Get there early, traffic is horrible. Be safe driving out, people just want to go home and they will run you over. The No. 1 tip is do not wear red under any circumstances!