Raider of the Month: December
Senior Molly Whitaker takes on the many roles of Color Guard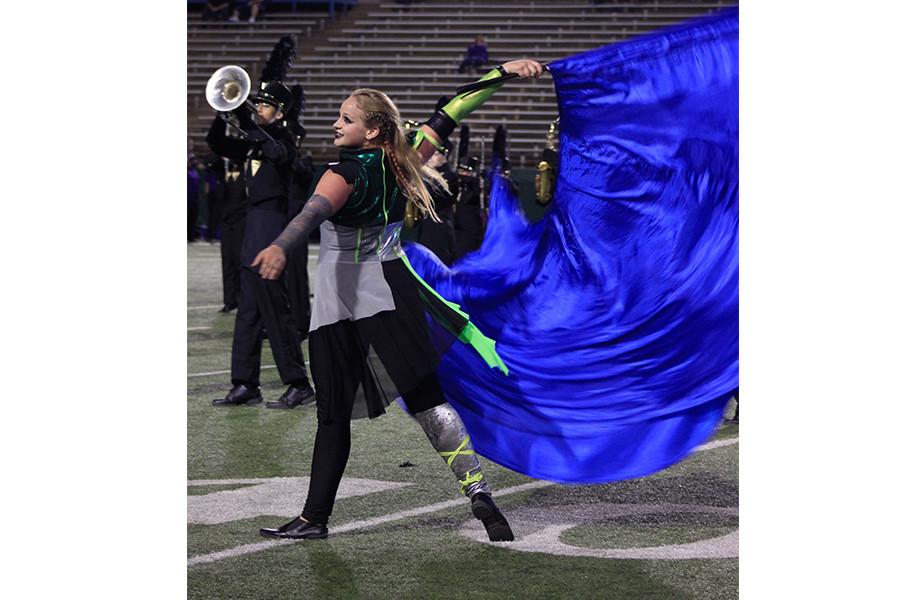 Brushing out her hair, she starts the two braids that hang down the side of her head. As she pulls on her costume and does her make-up, she prepares for the halftime show.
She starts to sing the counts in her head, she goes through the motions silently. She gets off the bus and walks into the stadium.
The band playing behind her, she dances on the bleachers with the rest of the guard. As halftime quickly approaches she gets the "babies" to the part of the stadium to warm up and line up.
They walk onto the field and a smile is plastered on her face as she sets her equipment.
She counts aloud, she marches to her spot at the beginning of the show. Starting to count silently, she picks up her equipment and begins the show.
Senior and captain Molly Whitaker has been spinning since freshman year.
"When I'm spinning, I think about nothing, absolutely nothing," Whitaker said. "My mind is completely blank and I just focus on my breathing and my mind goes quiet and my body just takes over."
Emotions are a big part in the meaning of this show. Some emotions that are felt are hard to express. Whitaker said this year's show was challenging yet exciting.
"It started out so intense, that I felt as though I was lost, like darkness," she said. "It then translated to a sense of hope. Hope for not only my future but for anything."
That sense of hope translates to guard.
Whitaker said Guard is life changing for some of the girls. It can transform somebody in only one season.
"Guard can change anyone," she said. "It's amazing what it can do for some people. It can change someone from being shy and scared to being able to do anything and be someone who feels powerful and can take on the world."
While some girls need somewhere they "belong" some girls just need guidance. Guard tends to offer that to the girls.
"The family never leaves," she said. "At the beginning of the year I didn't know 12 of the 'babies' and it was awkward because of the big separation between the 'babies' and 'vets,'" she said. "Now those 12 'babies' are my family and I would do anything for them."