Mr. and Miss Raider Announced at Round-Up Dance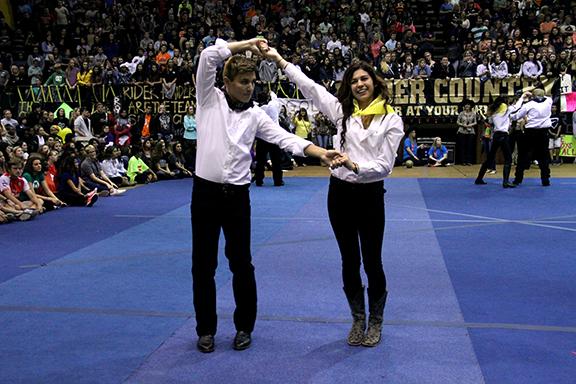 It was 9:30 p.m.
The nominees took the Round-Up dance floor to perform their traditional two step dance. Nervousness was etched on the faces of all as after the dances were finished, Mr. and Miss Raider were going to be announced.
Samantha Griego, Miss Raider nominee, braces herself for the results as she stands next to her dance partner, unconsciously tapping her cowboy boots and carefully listening.
On the other end of the dance floor stands Ryan Wegmann, Mr. Raider nominee,  repetitively  thinking "I hope its me."
And the results are announced.
Mr. and Miss Raider are voted on by the student body. Samantha Griego and Ryan Wegmann won the honor.
"I tried my best to really uphold the title as a true Raider," Griego said. "It's nice to have that accomplishment and the role of Miss Raider."
Wegmann and Griego, along with the other nominees, practiced every Wednesday and Thursday two weeks prior to the Round-Up dance.
"I missed Wednesday's practice because I have football practice," Wegmann said. "I only had about two practices, so I got pretty lucky."
Griego on the other hand, practiced with her partner every chance she got.
"We had practice twice for two weeks, and then Cody and I would randomly do it, and we'd be like 'ok let's practice', " Griego said.
After they finished their dance, a mix of thoughts ran through their heads as Mr. and Miss Raider were announced.
"I was very nervous," Wegmann said. "Out of the selected few, it was an honor to be nominated with them."
Griego and Wegmann said they hope they stayed humble throughout the whole process as they patiently waited for the students to vote for who they thought should be Mr. and Miss Raider.
"Thank you for voting," Wegmann said. "I appreciate it, and am happy to represent Rider as Mr. Raider."
Even though Wegmann and Griego had won, Griego said there are other "true Raiders that walk in the school" daily representing the school as this year's Mr. and Miss Raider have.