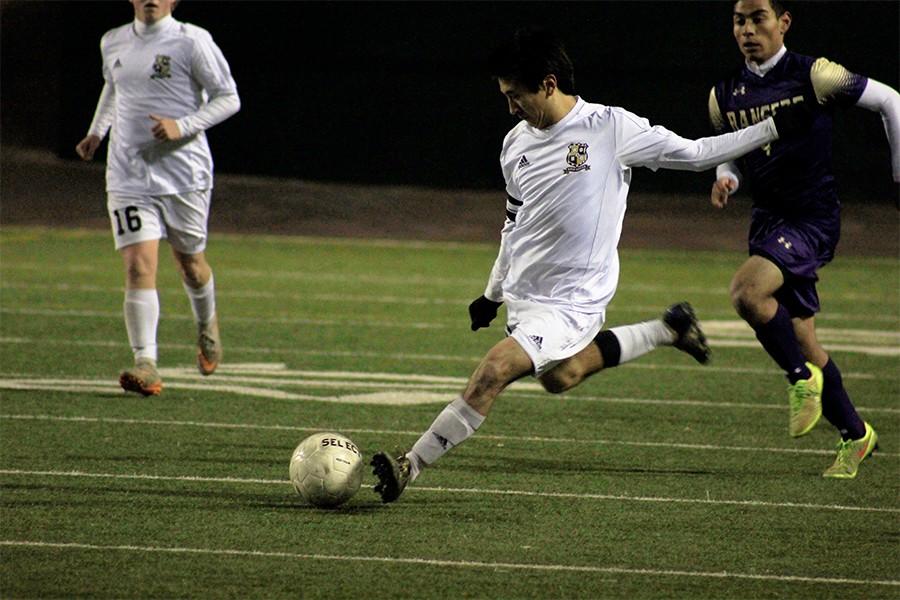 Seniors Lead
With tough start to season, players continue to improve
February 12, 2016
Boys soccer begins the 2016 year second in the district with high hopes to take first.
Coach Joshua Hill has hopes "that there will be more highlights to come."
"My favorite thing about coaching this team is the relationship that I formed with the seniors," Hill said. "This is their last go around and they're giving me all they have."
Hill said the team has grown from kids that weren't sure of themselves to players that are "taking charge."
"The seniors are getting everyone to become motivated by putting the leadership skills they developed over the years of playing soccer onto the field," Hill said. "It's been very rewarding to see them evolve."
Hill said his favorite highlight of this season was when the team overcame adversity at the start of the year.
"We've had a tough start," Hill said. "Instead of making things worse, we've stuck together and turned things around. Now we're on a winning streak and second in the district."
Hill has gathered multiple ways to help the team practice from his time playing college soccer.
"As a coach, I try to keep it as systematic as possible. I like to have them run through the same warm up at the same time," Hill said. "As a player, there was certain things that I liked to do, like visualizations to put yourself in a potential situation."
Senior Excellence Shaka's favorite thing about being on the team is being on defense.
"The best thing about playing defense is being on the right side and working together with the team," Shaka said. "I really enjoy working with everyone on the field."