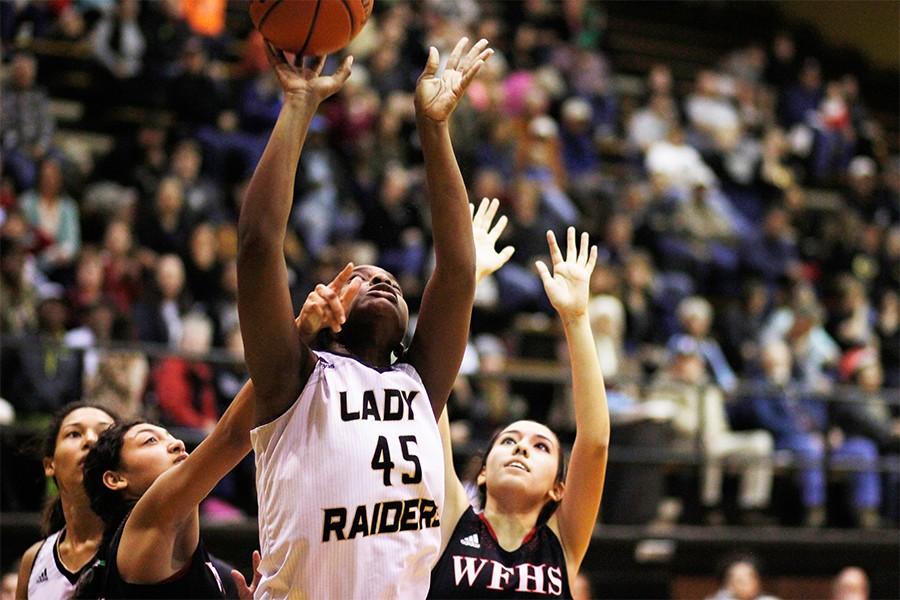 Sacrifice, Hard Work
Lady Raiders work together to continue record setting season; girls push each other to success
February 12, 2016
"Being ranked fourth in state is pretty cool, but when I think of rankings, it's whatever, because the number 20 team can come in and knock out the number four team," third year varsity player senior Nicole Linn said. "It means a lot to hold those titles, but you can't let them get to you. You just have to take the whole thing one game at a time."
After a win against Boswell by a score of 68-40 on Feb. 5, the Lady Raider Basketball team continues to push toward their goal for State.
"I try not to think about the ranks and all of the awards and stuff," senior Brea Harrison said. "I just want to play, have fun and try to get to State. I'm looking forward to winning with my sisters."
"
The Allen Tournament was a big moment where we all stepped up and played as a team together. We proved to everyone that we aren't just some small town team."
— Aierielle Wise, 12
Beyond the court, the Lady Raiders Basketball team has developed a relationship that transcends a mere team bond, Linn said.
"It's just cool because when I first moved to Wichita Falls from Iowa Park in the sixth grade, I didn't know any of these girls," she said. "I started playing basketball with them when we were on the same basketball team at McNiel and I've built relationships through this. It's not just a court thing or in the locker room either. We all have the same values and end goals so we just fit well together."
Harrison said the girls on the team fit together like a puzzle "once we all come together."
And as the team fills in the space between them and State, head coach Ramsey Ghazal said it's all about getting back to the basics.
"Having good defenses and making sure we are making our shots will make it hard for the other teams," Ghazal said. "If we can do those two things, get those two basic things down, we can really get a strong shot at State."
"
I never thought I would get hurt, so coming back from my injury this summer with my ankle was incredible."
— Mercedes Leija, 12
Ghazal has coached at Rider for the last six years and in that time frame Rider has passed the "barrier" from not exceeding district to well surpassing it.
"Because they know each other so well, I think they all feed off of each other on the court," he said. "They know each other's strengths and weaknesses, and I think that they use that to better their playing abilities."
Alongside their 14-0 District record, Linn said that the girls "fight for a spot for play time because we are an elite team," and through this, they push each other past their limits.
"The toughest thing about having a team like this is that you are going to have some players that on other teams would be stars," Ghazal said. "They would probably get 20 shots and 30 minutes of game each time, but when you are one a really good team like we have, some of the girls have to sacrifice some things like that to really fit a role that will help your team win. It's that kind of sacrifice that I find very commendable."
"
We have played really well as a team and we have beat the other teams by an average of 30 points."
— Jazmin Luster, 11
Three girls have committed to play college ball and senior Mercedes Brooks was nominated for McDonald's All American. The entire team understands the sacrifice Ghazal spoke of.
"My first thought is to make sure we are up enough to give everybody else the opportunity to get out there so everybody can at least touch the ball," Brooks said. "I don't like it when there is somebody out there just standing in the corner because I know that if that was me, I wouldn't like it either, so my first thought is to get everyone involved."
Because of that sacrifice, Harrison said each part of the team affects the outcome of each game.
"Each person plays a role and like Coach Ghazal always says, 'we make big things happen,'" she said. "It's a blessing to play with people you have a relationship with, like a sisterhood, and I cherish it."