Football Season Finished After Playoff Run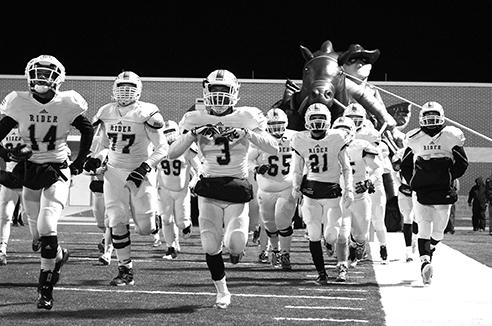 Junior wide receiver TJ Vasher doesn't notice the 10 seconds left in the fourth quarter as he runs to the end zone. 
Rider is down three points and their standing in playoffs depends on this one play. 
Turning around, Vasher keeps his eye on the ball as it flies 30 yards through the air.
6… 5… 4… 3…
The ball fits snugly into his arms and the crowd erupts in cheers and screams. 
After the season ended at the third round of playoffs, this year's varsity football team says they consider the year successful.
"Nobody thought we would even make playoffs, so to go three rounds deep was fun and awesome," head coach Marc Bindel said.
Along with the success of playoffs, the team worked hard with each other and made Bindel proud, he said.
"We're definitely proud of the seniors. They did a great job of leading the team," Bindel said. "Based on the seniors' leadership, we were able to get the team into the playoffs and have a really good run."
Highlights throughout the year stick out to the team.
"We represented Rider every time we stepped on the field," senior Ryan Wegmann said.
"We have worked hard for everything we accomplished and we all have each others back, we are a big family," Vasher said
The team and the coach hold a high regard for each other, they say.
"They have a lot of heart and determination," Bindel said.  "Obviously they're talented and they work hard, they never gave up, and I think that quality will help them in life."
Wegmann mirrors Bindel's comment with one of his own.
"Marc Bindel is the best coach in Texas," Wegmann said. "Rider is lucky to have him and his staff."
Leave a Comment