Tennis Earns Second Consecutive Trip To State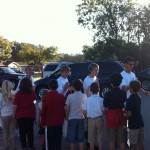 Lee Williamson, Reporter
November 19, 2012
Just getting this far was a victory. That much wasn't lost on anybody. They had come so far, and they never let up, not even for a second. They jumped on every opportunity to punish the opposition and they stood their ground against every ball that came their way, but this time it just wasn't enough.
Last month, the tennis team won in regionals and made it to state for the 2nd year in a row, but were eliminated by Alamo Heights in the first round with a score of 10-3.
"We did as well as we could," tennis coach Gillen said. "They were the better team on that day."
The loss came after a strong season.
"A lot of people didn't expect us to get as far as we did," Gillen said. "Only four teams even make it to state."
And Rider was one of those teams, with a close victory against Lubbock High.
Partially thanks to senior player Junaid Ramzan. If Ramzan had lost his final match against Amarillo, the entire team would have missed the chance to go to State.
"We thought Lubbock would be trouble, but knew we could do it," junior Chelsea Wells said about regionals. "The semi-finals were actually more trouble than the finals."
The loss at state has not in any way slowed the team down. They know that as both a team and as individuals, they still rock at tennis.
"If the team loses and I lose, but I played well. I am satisfied," junior Ian Boatwright said.