Single Pringles on Valentine's Day
Treat yourself because you deserve it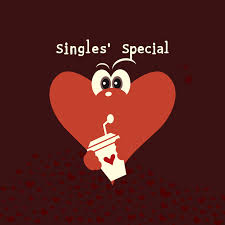 Valentine's Day is on the horizon, a pink and red reminder of what us singles are lacking. But consider this for a moment: instead of worrying about why you're not in a relationship, take a day to splurge for yourself.
Here are my four logical reasons to ditch the dates and do what makes you happy.
1. Money can only buy so much. 
Gifts, presents, surprises. They're all pretty similar in the high school setting: they're awkward, uncomfortable and expensive. Plus, unless you have a good grasp of your partner's tastes, you won't even be sure if they like your gift until you give it to them. I cannot explain the second-hand embarrassment that wafts from the couples in the halls exchanging their cheesy gifts of cheap candy and fake roses. Couldn't you have waited until after school? Now you both have to carry around these frilly, inconvenient bags for the rest of the day (and you're probably not going to eat any of the candy in them anyway). The point is, by being single, you're probably dodging a bullet and avoiding the obligation to endure all of this… mess. Instead, try to worry about spending money on what you love, not something that may or may not make someone else happy.
2. It's less embarrassing to stuff your face when you're alone.
Think about this for a moment: just because society plays up the "couples" aspect of Valentine's Day, that doesn't mean you can't take yourself out to dinner. Get dressed up, show out. You don't need a partner to look good. And, without a date, you avoid the hassle of deciding where to eat, who's driving and who's going to pay. It's also easier to eat everything you want (in the magnitude you want) when there isn't an audience sitting directly across the table. With this weekend's weather, you might not even want to go out. So, try ordering your favorite takeout and staying in for the night. Watching your favorite movie and eating yummy food without distractions can be a heavenly experience. 
3. Never underestimate the power of lazy days.
It's convenient for couples to plan their sappy Valentine's Day dates and repulsive get-togethers this year, what with the holiday being on a Sunday. But you know what they're going to get if they go out on Valentine's Day weekend? Frostbite. The weather is going to be hideous on the holiday weekend, which means only one thing: you should stay in. Alone time can be beneficial for the human mind, allowing you to relax and recharge. Sleep in late and take the entire day off, avoiding the perilous roads and shocking cold. Watch the eight inches of snow fall outside from the safety of your warm blanket and hot chocolate.
4. In the end, you should know how to love yourself.
I know this last one is difficult, believe me. But just because you're not in a relationship or going on a date on Valentine's Day doesn't mean you're any less valuable. Being single is an opportunity for exploration, reflection and self discovery. And to be honest, it's the best feeling knowing that you're pretty much free to do whatever you want, whenever you want, without having to debate with someone else. When you're single you have the freedom to figure out what makes you happy, special and unique.