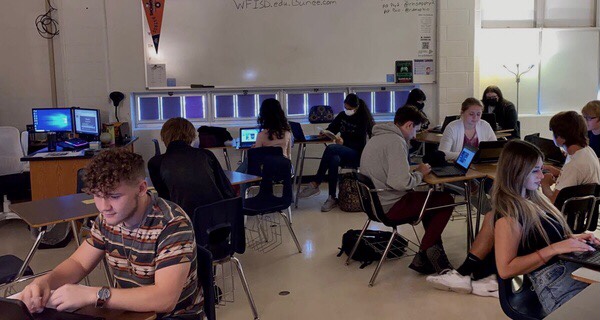 Olivia Davenport
At last, a new almost-normal school year has begun. Masks can still be seen on many faces of Rider's occupants, but not nearly in the numbers that they used to be.
Finally, masks are no longer required to be worn inside the building. Though it is a freeing move toward normalcy, this change may be a cause for concern.
"I am a little worried about the mask requirement being lifted for vaccinated individuals considering the delta variant," teacher Bryce Henderson said. "Hopefully this will drive more individuals to get vaccinated and better protect our student and faculty populations."
To make matters a little more complicated, the school district has removed remote learning and face-to-face teaching is now mandatory.
"I am glad that the online option has gone away this year, mostly because I don't think students learn very well online only," math teacher Mrs. Jones said. "It would be OK if a student uses a video lesson if they are out of class for just a few days, but doing school primarily online has been very hard for students."
This means no more two-week periods to fight off COVID symptoms, as WFISD revises their previous sick day policies. Students will only be allowed a maximum 10-day quarantine, which will be counted like any other absence. To be excused, they will need to turn in a signed doctor's note within three days of their return to school.
Teachers will also experience shorter sick periods, with only five days of acceptable leave to recover before they must document their sickness.
"I think the district is doing the right thing," teacher Chris Preston said. "Most staff members that have caught the virus have gotten it because they have not taken the appropriate precautions. Get the vaccine, mask up, and follow CDC guidelines. 
"Individuals that follow those recommendations have a very low chance of getting the virus. It is not reasonable to ask the district to give extra sick time if people are not following safety guidelines."
For further protection, school nurses will now be trained to perform rapid COVID tests, though students will need a parent's signature for permission. All who test positive will have their results reported to the county health department. In addition, weekly vaccine clinics at the CEC will become available to all students 12 and older. 
"This year (except for the constant evacuations) has already been a better experience," Preston said. "It has been wonderful to see the students in person again. You can really feel the energy and the excitement from our staff and students. As a teacher, I took face-to-face teaching for granted. I think the experience has made me appreciate all the things we can do in person."