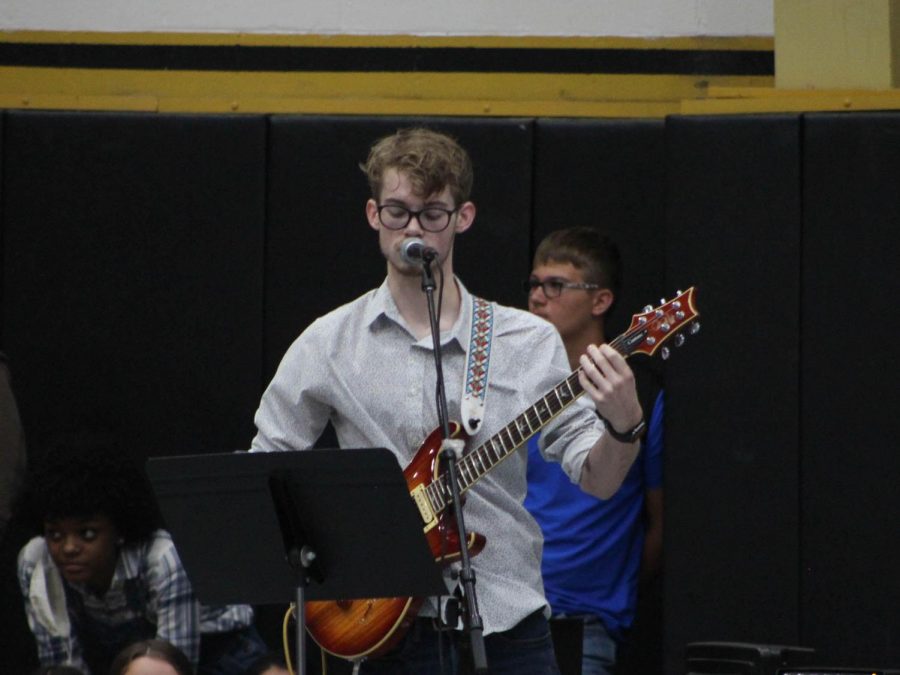 Emma Johnson/ Rider Media
Friday is the big Rider-Old High game. Cheerleaders will warm up, the band will tune their instruments and the football team prepares for battle. 
But today's Round-Up assembly that includes Mr. and Miss Raider nominees dancing, skits acting out and a small band playing also has plenty of preparation. 
Logan Potter, along with five other members, lead the Round-Up band at today's assembly. When he decides what music to play at the assembly, Potter said, "I ask fellow students and they give me suggestions. I take their suggestions and sometimes listen."
Although the band starts preparing for Rivalry Week for a few weeks, Potter said the rehearsal time they have is not nearly enough and they spend a lot of time building the stage, tuning instruments and connecting the speakers and organizing their act. 
Another yearly tradition during Roundup and Rivalry Week is the nomination process of Mr. and Miss Raider. Counselor Alisha Crouch is in charge of the entire process. Like anything involving the school representation, the process for naming both Mr. and Miss Raider is extensive.
When asked what the hardest, most time-consuming part of picking the list and nominees, Crouch said. "The initial list stuff because we have to look at grades and check discipline and office referrals." 
Behind the scenes, a lot of students end up in the final cut and get excited about it, because they have their chance of representing Rider High School, instead of the elections just being a popularity competition.
"I think it's always fun to see the kids that, especially, make the final 20, the second cut, because it's just a lot of kids that make that cut," Crouch said, "It means something and it's nice to see how many kids from different walks of life make it in and not just one particular type of person. So I always enjoy seeing that every year, and it makes the school be really represented."
Being a senior comes with many different privileges and activities during Rivalry Week, like a class breakfast at Chick-Fil-A. Senior class sponsor Kyndra Henson is in charge of planning activities for the Class of 2022.
Henson enjoys watching the seniors be proud of their work, even though the most time-consuming part of Round-up is the hallway decorating. She has never been in charge of any other class, but is enjoying her time as the senior class sponsor.
At the Round-Up assembly, each class performs a skit for the school. The class officers for each class write and direct the skit and other students from each class are able to participate in their classes skit. This year, however, the skits were judged and the senior class was deemed the winner. 
Elaine Au, the senior class vice president, said she thinks making the skits into a competition "encourages the other classes to do the best that they can."
Au and senior class president Sandra Le began working on the senior skit as soon as they possibly could and as soon as it was finished began casting roles.
"We only had two weeks this year to plan everything, so right off the bat we wanted to try and start the script and start casting it, because there's a lot of people in it this year," Au said. "So we got the script done in two days and after that we jumped right into rehearsals the next day. From there on, we had a practice like every other day, including the weekends. And I think it's going pretty well."
A lot of people want to be a part of the skit during their senior year. This year about thirty students are participating and all of them have at least one line. With so many students, stressful moments happen while trying to get the skit skit ready, but there's nothing the group can't handle. They have an objective and a time limit, so they work their hardest to get it done.
The seniors this year had two skits. One about Toy Story, and another about their time at Rider.
"The first one is the competition one that all the classes are doing, and that one is based on Toy Story," Au said. "It's just like Andy going to college and the toys are just kind of, in a way, reminiscing, on the things that they've done with Andy before they go to college, and are just discussing his college life."
The second one about their time at Rider has various events and people throughout the year, such as Pitbull, Tik Tok challenges, and even featuring Lil Carter, an off brand "Lil Pike" whom the Chronicle featured earlier this year.
The game, pep rally and assembly take center stage, but backstage are the teachers and students working together to make this week as much fun as it's been in the past.