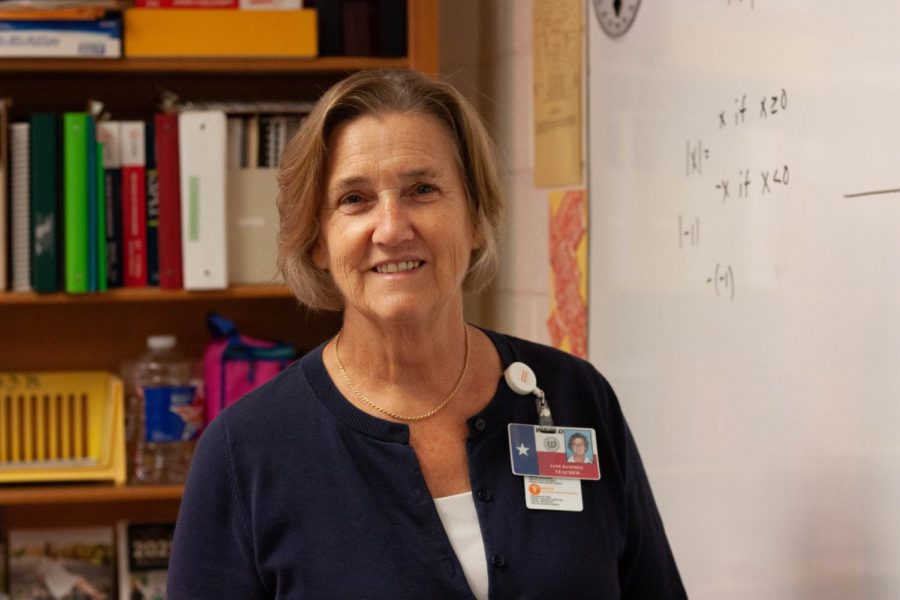 Olivia Davenport
As the sun rises along the horizon, the island suddenly comes to life. The waves crash against the sand, the birds are singing, and in the distance, right on the beach, is a little hut. 
The young resident, fresh out of college, is waking up to a breathtaking view. Jane Ramirez is ready for another day, teaching her students in Fiji. 
Ramirez then traded the tropical life for the heat and humidity in Texas. There, she started another adventure that she still endures to this day — teaching math at Rider High School. 
During those past 18 years as a Raider, Ramirez has raised her three children and rediscovered her love of teaching. But that wasn't always her intended path. 
Ramirez grew up in Minnesota, and wanted a chance to be on her own. So, when she graduated college, she joined the Peace Corps. 
After she joined, they decided with her degree she could teach math and science. The school she was sent to was on a small deserted island in Fiji. All the children living on the surrounding islands were sent to that boarding school. It was very private and all the residents were basically on their own. 
"I joined the Peace Corps in 1978, it started in 1963, so it was still kind of a new thing," Ramirez said. "There was no internet back then, so when you joined the Peace Corps, you were remote."
A lot of people in their adolescence want to go on their own. They want to find their own path through life. Jane Ramirez was no different.
"It was just something I wanted to do," she said. "I wanted to travel. I wanted to do something fun and different."
After that, Ramirez became a mother, spending a couple decades raising her three children. She took them to school and volunteered for the PTA group. As her children learned, she was inspired. She decided she wanted to be a teacher.
"So there was a particular teacher over at Washington Jackson, she said she had started teaching in her 40s, and at that time, I was around that age," Ramirez said. "And I thought, you know that's something I can do, cause I really like being in the school and I thought the teachers were so great there." 
Ramirez has been a teacher at Rider for 18 years, the only other place she taught was during her time in Fiji. 
Students have thought for quite some time that Ramirez was going to retire. Little do they know that they are the reason she keeps going. 
Ramirez also hopes that as students leave Rider, they leave with a skill that they learned from her even if it's not math-related. Her students inspire her to let go and not be as much of a perfectionist. They've taught her how to be loose. She hopes to have helped them as much as they helped her.
When Ramirez does wind up retiring, she knows exactly what she'll spend her time doing. Spending more time on the move from state to state, visiting her adoring children and grandchildren in Boston, Omaha and Washington D.C. Just as she spends every summer, except this time never returning to the hallways of Rider High School.
Between her initial journey to Fiji and her constant cross-country adventures, Ramirez has always been on the move. Her teaching adventure won't last a lifetime, but the student body is glad that she made a landing between travels and is better off because of it.