A Handmade Touch
Senior Aribah Tahir once only practiced henna, a paste used to make temporary tattoos, on her own hands.
But then the Rider senior expanded into drawing the Middle Eastern body art onto interested students, carefully personalizing each pattern. 
What began as a hobby five years ago has turned into a side business. But henna isn't Tahir's only passion. 
The money she raises from henna goes toward another personalized pattern — handmade fleece blankets for children under state care. These kids can't enter a foster family and must stay put until the age of 18. The state provides most of their items. 
"This project just gives them something that's their own, that's not from the state," she said. "The blankets are something they choose the patterns for, so it allows them to personalize each one."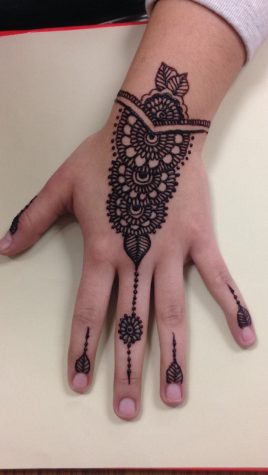 Tahir first got interested in the subject of child abuse and broken homes as a freshman researching a school project; she discovered the daunting numbers of youth that are affected. 
"That's when it first hit me that sexual abuse in children is so common," she said. "I found CASA (Court Appointed Special Advocates for Children) and started volunteering for them because that's what I want to do when I'm older. I want to work with children that have been abused." 
This summer Tahir's passion was reinforced when she visited her family in Pakistan. After hearing a lot of stories about abuse, her plight became clear. 
"It makes me want to reach out to these children, who are in these unsafe situations and it makes me want to help them out," said Tahir, who has raised nearly half of her $700 goal. "I believe that when you're a child, then you don't really know how to cope with issues, and if you have somebody to talk to, it's such a little thing, but it does help."
She is reaching out in her own way with her art and culture using henna. Fueling her passion for the children and art, Tahir will be offering her services for $10 per hand to the public via appointments set up through her Instagram messages, @aribahtahir or contacting her through Snapchat, @aribah.tahir. She plans to take appointments until the end of December.