Reaching for new heights
Volleyball's Leslie embracing move from Los Angeles
It's easy to see junior Jill Leslie step onto the volleyball court. As the tallest girl on the team standing 6-foot-3, it's no surprise she's a ferocious blocker at the net. 
But what you don't see is the dramatic change in Leslie's life. Her father, Justin Leslie, became the head men's basketball coach at Midwestern State last spring. That forced the Leslie family to move from Los Angeles. 
"I like it a lot. It's really different, but everyone's really nice," Jill said when asked how Wichita Falls differs from the West Coast. 
Now 1,323 miles from her hometown, Jill has come a long way. According to volleyball coach Alysha Humpert, Jill has seamlessly adapted to her environment. With a new group of friends and teammates at her side, it's easy to see why Jill has become immediately comfortable.
"Well, she definitely fits in really nicely. Because our work ethic is really high, you know," Humpert said. "We are really big into the classroom and academics are really big for her as well. But I think, ultimately, we're surprising Jill with some of our weirdness. You know, I always tell the girls 'If you're gonna do something, own it.' 
"We cheer like crazy on the bench. We have lots of random challenges and dance routines. Even though we're volleyball, we have lots of dance routines. We're getting her out of her shell, which is fun to see her you know, kind of get out of her box as well and kind of get to know new people."
Moving in July of this year, Jill came to Wichita Falls knowing no one. Through summer workouts for volleyball, Jill met many of her teammates and gained confidence she would not have had without them. This allowed her to be less nervous about coming to a new school full of strangers.
"You know, I think that it's been relatively smooth for her," her father said. "Thankfully, she has been able to come into some teams where she has been able to make some connections with the other girls. That way she wasn't just walking into the start of school without knowing anyone or being a part of anything. 
"So, that definitely eased the transition and I can definitely see her now, at this point, starting to get a little more comfortable and understanding her routine, and just getting acclimated to Wichita Falls."
Opponents can definitely see Jill on the court. She utilizes her height as she averages seven kills and a team-high six blocks. 
However, she's not the tallest person in her family. Not even close.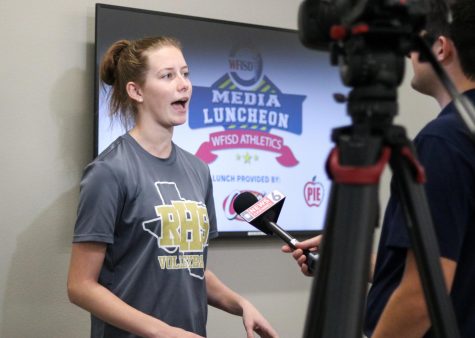 Her father, who played college basketball and then coached at Azusa Pacific, stands 6-foot-8 and her mother is six foot. Her uncles on her father's side stand 6-1 and 6-2, while her mother's brothers are 6-5 and 6-3.
Despite being the tallest girl on the team and one of the tallest girls in the school, Jill doesn't find herself in many uncomfortable situations.
"I mean it's hard to find clothes but nothing awkward," said Jill when asked about the challenges she faces. "A lot of people don't like it, but I really, really like it because it helps a lot in sports."
Playing both basketball and volleyball, Jill's schedule is packed with games and practices. But she has another advantage that most players don't: her father's basketball expertise. However, Justin has made it clear he's always a father first.
"And when I come to games, you're never going to hear me or see me say a word in the stands. I don't think that's healthy for her development," Justin said. "I don't think it's healthy for the team to have parents screaming and yelling and overcoaching from the sidelines. When she needs help, I obviously, as a coach,  I have the ability to help her. 
"We'll work together, you know, when she has things she wants to do. But in terms of coaching her, no, I just love watching her play and I just want to be a supportive dad throughout this whole process. And if she needs something from me, absolutely I give it to her. But this is her athletic experience, not mine."
Jill's experience here may be short, but there is still plenty of room to grow at Rider.