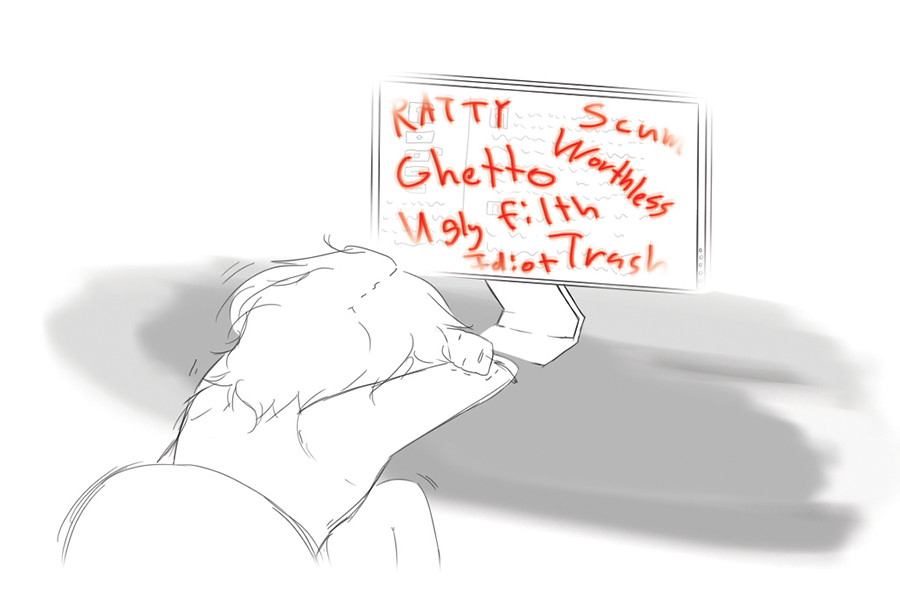 Bad Connection
Harassment becomes easier and more effective by social media
November 20, 2015
Ugly.
Pathetic.
Worthless.
Simple words that have a complex and disastrous effect. And it is even worse when they are said over a bright screen.
Bullying people increases chances of suicide up to nine times and the easiest way to bully someone nowadays, is through the internet or social media.
"They are hiding behind a screen," sophomore bullying victim Brittany Perez said.
Perez said that people made her feel "unwanted," and all it takes is a mean comment under a picture or a nasty text.
"I think they do it to build themselves up." Perez said.
Junior Hayden Stern ran into cyberbullying after a bad choice in the middle of his sophomore year. Stern said that people were, "calling me stupid," and it changed how he not only viewed himself, but other people.
"I was so embarrassed after suspension that I moved back to Georgia where I didn't go back to school for the rest of the year," Stern said. "I just felt like an embarrassment to my parents."
Sophomore Mykenzie Streadwick struggles to understand why people try to "start a bunch of rumors and make me feel bad about myself on purpose."
"They [the bullies] don't realize the effect they have on people," Stern said.
Perez said the reason people bully more online is because "they can't face you and would rather be anonymous."
"I was told I'm worthless and to go kill myself," Perez said.
Stern said "things got better," but it took a while. Now he has friends that help get him through the day.
"You're worth it," Stern said. "Don't ever let anyone tell you you're not worth it."
Think Twice
Colleges rescind scholarships after teens make social media mistakes
Colleges have started taking away scholarships from student athletes more and more due to offensive or obscene social media posts.
"I think you should be mindful of what you post all the time," senior Dominic Campagna said. "Always be respectful whenever you post."
Campagna is verbally committed to Fort Lewis and said his coach never laid down a "rule," but he knew what would occur if he "ever said anything out of line."
"You are held to a higher standard because you represent the college you are playing for," Campagna said.
Senior Mercedes Brooks, who is committed to Kansas State said that colleges are always looking at what their athletes post and there should be a rule or policy about the consequences of media mistakes.
"I think the rule should be common sense," soccer coach Carl Wiersema said. "We need to educate our athletes and teach them to understand that they reflect themselves, their schools and their parents."
Wiersema had an athlete of his lose a scholarship to a school because she posted a racial slur and "within 20 minutes I had emails from Virginia and from Europe about the post and how it represented our school."
"Sometimes things are done without forethought and they  get themselves in trouble and can't take it back," Wiersema said.
College athletes are monitored more simply because if they misrepresent the school it costs them money.
"If your education is tied into a monetary scholarship then you have to have a little more due diligence," Wiersema said.
Cellphone Attachment
Electronic use continues to grow, reaching all-time high because of social media
Seven hours of her time. Seven hours spent looking at Snapchat, Instagram, Facebook, and Twitter. That is the typical amount of time that sophomore Bayleigh Holley spends on her cell phone, every single day.
Though it may seem like an extensive amount of time to some, it is actually just above the average of six hours for American teenagers who are becoming more glued to their phones every single day. Cell phones aren't just a form of communication anymore, to some, they are a part of who they are.
"There would have to be a really good reason for me to hand over my phone," said senior Colton Stallcup. "I freak out a little bit if it isn't with me. It makes me feel very disconnected."
71 percent of teens are on at least two types of social media and 92 percent check their social profiles daily, with the help of their smart phones. Even adults are guilty of becoming attached to their hand held technology.
"I'm awful," said guidance counselor Brittany Bailey. "I can't go anywhere without my phone because I feel like it is a part of me. Without it I don't know what to do."
Today, many people think it is difficult to feel connected to the world without their cellphones, while some use it to ward off boredom.
"I am not entertained by what goes on at school so I get on my phone," Holley said.
Stallcup said that he doesn't think he is really on his phone that much, but that he does it to avoid other people.
"I use it because other people are stupid and if I didn't have my phone I would have to tell them how stupid they are," Stallcup said.
Studies show that cell phones have now become essentially a part of the teen. Stallcup said without his phone he would "have to find something else to devote my time to."